Arrested for a Gun Offense on the George Washington Bridge
Defense Lawyers for Clients Stopped on the GWB in Fort Lee, New Jersey and Charged with a Weapon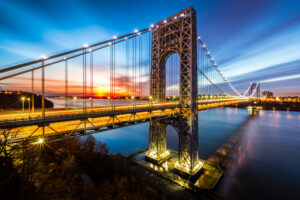 Constructed in October of 1927 under the authority of the then chief engineer of the Port Authority, Athmar Amman, the George Washington Bridge spans from New Jersey's Palisades to Manhattans shores and links New York and New Jersey. Suspended over the Hudson River, the double-decked bridge runs 4760 feet from Fort Lee to New York City and carries the most traffic worldwide. Motorists commuting between the two states for work, business, and pleasure cross the bridge daily. However, not all motorists entering or exiting Fort Lee have a smooth experience crossing the bridge. Some find themselves arrested and charged with serious felony crimes for illegally possessing guns and other weapons. When that happens, Fort Lee, Bergen County, and New Jersey State law enforcement operate in accordance with the state's tough on gun crime policies. Toward that end, they stop drivers and passengers on the GWB in Fort Lee on a regular basis, arresting, and prosecuting defendants to the law's fullest extent. No matter what, if the police found a weapon in your vehicle or on your person, you should contact a weapons defense lawyer in short order.
If you were arrested while driving on George Washington Bridge, do not hesitate to contact a gun lawyer at our law office. Our experienced Bergen County weapons lawyers have vast experience defending clients charged with unlawful possession of a weapon, possession of a weapon for an unlawful purpose, assault with a deadly weapon, brandishing a firearm, and other related offenses involving BB guns, ammunition, and large-capacity magazines. For immediate assistance and to talk to one of our attorneys about your weapons case, call (201)-330-4979 today. We are also happy to set up an appointment with you at our local office in Bergen County, within walking distance of the Bergen County Superior Court and the Bergen County Jail, where we fight for our clients' rights on a daily basis.
Routine Traffic Stop on the George Washington Bridge Leading to Charges for Illegal Weapons Possession
When the police arrested you while driving in Fort Lee on the George Washington Bridge, you should know that New Jersey is tough on crime, particularly for illegal weapons possession and use. Often ordinary traffic stops end with a ticket or warning, but a significant number of indictable crimes enter the court system from a routine stop. Once the police pull you over, their investigation begins. They look at you and the contents of your car with a suspicious eye. Their training and computer data access can help them to better detect crime.  Weapons are anything that is potentially lethal or capable of causing physical harm. They often connect to other violent and non-violent crimes, such as robbery, kidnapping, terroristic threats, burglary, and drug sales, and thus, New Jersey punishes weapons possession harshly.
Unlawfully Driving with a Firearm in Your Vehicle in Fort Lee on the GW Bridge
Concerning firearms, so long as an individual applies for the appropriate gun permit to buy and own a gun, including a BB gun or air gun, they may have their weapon on their property or in other legal locations like their place of business. However, they need a special permit to carry a firearm, namely a handgun, and if they travel through New Jersey with a gun, they need to store it in their vehicle according to the state's laws. In addition, they must lock the firearm away from the ammunition and the reach of a driver or passenger. So when a Fort Lee officer pulls a motorist over and discovers a gun in the car that is not correctly secured or permitted, they may arrest the driver for illegal possession of a firearm. The presumption by law enforcement is that the gun belongs to the vehicle owner. Moreover, out-of-state drivers cannot depend on the laws of their home state to avoid New Jersey's penalties for illegal possession of a weapon.
Pulled over and Arrested for Other Types of Weapons in Fort Lee, NJ
As to other weapons, like sawed-off shotguns, armor-piercing ammunition, hollow nose bullets, or switchblades, New Jersey considers it criminal possession to have one of these (N.J.S.A. 2C:39-3). The state charges those who knowingly possess an illegal weapon, meaning it is actively or constructively in the accused's control, with possession of a prohibited weapon. Constructive control means the accused knows of the weapon and can access it. The state can charge a violator with a third or fourth degree crime, depending on the weapon. Third degree crimes come with penalties of up to five (5) years in prison and a $15,000.00 fine. Fourth degree crimes come with a maximum of 18 months of imprisonment and $10,000.00 in monetary penalties. Bear in mind, the more dangerous the weapon, the likelier the accused will face third degree charges.
New Jersey statute 2C:39-3 lists illegal weapons as destructive devices, silencers, defaced arms, some types of knives, armor-piercing bullets, sawed-off shotguns, slingshots, metal knuckles, stun guns, certain ammunition, and handcuffs. Unless the weapon is an antique cannon, the illegal ammunition stays on your property, or the weapon's owner is a security guard, licensed professional hunter, or in the military or National Guard, possessing a prohibited weapon can land you in state prison. In addition, having one of the prohibited weapons, with knowledge of their lethal potential and under circumstances that are inappropriate for their lawful use, can lead to charges for unlawful possession of a weapon or possessing weapons for unlawful purposes as well.
Stopped on the George Washington Bridge without a New Jersey Permit for a Firearm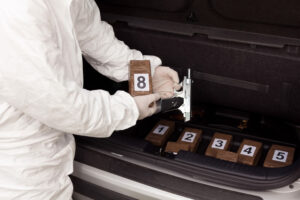 Having an unpermitted firearm, meaning a firearm without the appropriate permit issued by the state of New Jersey, such as a rifle or shotgun, is a third degree crime. In addition, unlicensed or unpermitted handguns, assault rifles, or machine guns are second-degree crimes, punishable by five (5) to ten (10) years in prison and a $150,000.00 fine. Worse yet, the Graves Act applies to unlawful possession of guns and other gun crimes, which means you could get a mandatory minimum sentence of minimally 42 months incarcerated. In contrast, you might get released from prison earlier otherwise. Other unlicensed or un-permitted weapons, such as a BB gun, for example, are third degree crimes.
Importance of Having a Solid Defense when Charged with a Gun in Fort Lee
As grave as the consequences of getting caught illegally possessing a weapon, you may have some successful defenses to the charges. For example, if the police searched your house or car without a valid warrant, consent, or probable cause, the weapons they seized may not be admissible evidence at a trial to convict you. Also, constructive possession is more doubtful than actual possession, as the weapon may actually belong to someone else who perhaps left it in your vehicle as an oversight. At the very least, a good attorney can raise doubt as to whether the weapon belonged to you. Then there are other options when special circumstances apply. Fortunately, for BB guns and defendants charged with firearms with permits from other states, you may have the opportunity to avoid prison altogether by obtaining a Graves Act Waiver and entering the Pre-Trial Intervention Program. This is no easy feat, but it can be accomplished by a talented gun lawyer who sees these types of cases in the practice frequently.
Meet with our Fort Lee NJ Gun Lawyers if You are Facing Weapons Charges
Seek a free initial consultation with a seasoned Bergen County weapons defense attorney if the police stop you on the George Washington Bridge in Fort Lee and charge you with any gun or weapons crime. Having handled numerous firearms and weapons cases before, our exceptionally qualified lawyers can offer you advice and a perspective on what your chances are of beating the charges, seeking PTI admission, or negotiating a deal with the prosecutor. Get all of your questions answered by a Fort Lee gun attorney by calling us at (201)-330-4979 to discuss your case today.