Bergen County Terroristic Threats Defense Attorneys
With Offices in Hackensack, New Jersey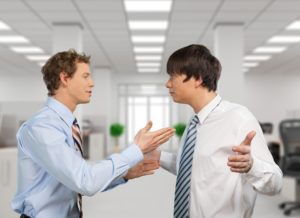 Terroristic Threats is a serious felony charge in New Jersey under NJSA 2C:12-3 that can be graded as a second or third degree felony depending on the nature of the alleged offense. These cases will be prosecuted by the County Prosecutor's office and handled in the Superior Court in the county in which you are charged. Although it sounds like an extreme act, people are charged with terroristic threats frequently. The fundamental accusation in a terroristic threats case is that the defendant threatened someone else with an act of violence with the intention of, or in disregard of, the potential for causing them fear of imminent danger, or with the purpose of causing an evacuation of a gathering place, structure, or public transportation location. In the majority of cases, it is a third degree charge warranting up to 5 years in state prison if convicted. With the severity of the punishments on the line, not the least of which is a felony conviction on your record that can impact many other areas of your life, it is absolutely necessary to have the best defense prepared when facing the prosecution in a terroristic threats case.
The Tormey Law Firm is composed of a team of highly experienced criminal defense attorneys who regularly practice in Bergen County, New Jersey. These lawyers are passionate about serving their clients, who face charges ranging from aggravated assault to cocaine possession and reckless driving in towns including Oakland, Montvale, and Palisades Park. Finding a seasoned legal advocate that will help to guide you through the process can significantly impact your chances of success in resolving your case. The attorneys at The Tormey Law Firm are proud to provide this type of conscientious legal representation to their clients and their client reviews serve as a testament to their skillful and compassionate approach.
If you or a loved one has been charged with terroristic threats, stalking, harassment, or a domestic violence-related offense in Bergen County, New Jersey, contact the Hackensack offices of The Tormey Law Firm at (201)-330-4979 for a free consultation. One of our criminal and domestic violence defense attorneys is always available to discuss your case, to answer your questions, and to outline your options for moving forward.
Terroristic Threats in New Jersey: N.J.S.A. 2C:12-3
Terroristic threats is a criminal charge in New Jersey governed by N.J.S.A. 2C:12-3, which provides, in pertinent part:
§ 2C:12-3. Terroristic Threats
a. A person is guilty of a crime of the third degree if he threatens to commit any crime of violence with the purpose to terrorize another or to cause evacuation of a building, place of assembly, or facility of public transportation, or otherwise to cause serious public inconvenience, or in reckless disregard of the risk of causing such terror or inconvenience. A violation of this subsection is a crime of the second degree if it occurs during a declared period of national, State or county emergency. The actor shall be strictly liable upon proof that the crime occurred, in fact, during a declared period of national, State or county emergency. It shall not be a defense that the actor did not know that there was a declared period of emergency at the time the crime occurred.
b. A person is guilty of a crime of the third degree if he threatens to kill another with the purpose to put him in imminent fear of death under circumstances reasonably causing the victim to believe the immediacy of the threat and the likelihood that it will be carried out.
Penalties for Terroristic Threats in New Jersey
As stated in the statute above, terroristic threats is generally classified as a third degree (indictable) criminal offense in New Jersey. A third degree offense has a state prison range of three (3) to five (5) years. However, a presumption of non-incarceration exists for first-time offenders. This means that if you have no prior criminal record, you may be considered a good candidate for probation. And depending on the circumstances of the alleged offense, you may also be eligible for the Pre-Trial Intervention (PTI) program. If eligible and admitted into the PTI program, the charges will be dismissed upon successful completion of the program. As a result, you will be able to maintain a clean criminal record.
When a terroristic threats offense occurs during a declared state of emergency, the charges are upgraded to a second degree felony and the punishments become more severe. Specifically, a second degree criminal conviction carries 5 to 10 years of incarceration and it is presumed that the defendant must be sentenced to prison time. This means that even without any criminal history, you are sentenced to imprisonment upon conviction.
A Terroristic Threat is Considered Domestic Violence
Considering the essential elements of a terroristic threats charge, it is easy to see why these offenses are often associated with domestic violence. In fact, making a terroristic threat constitutes an act of domestic violence when it occurs against a household member, romantic partner, spouse, family relation, parent of a shared child, or anyone that formerly had one of these relationships with the defendant. Thus, a felony charge for NJSA 2C:12-3 also provides grounds for a restraining order in New Jersey. If you are charged with making a threat and served with a temporary restraining order, you are looking at two separate cases. The criminal charge carries with a court case that could land you in a jail. On top of that, the restraining order requires a civil hearing that could result in additional consequences. The repercussions of a permanent restraining order include staying away from the alleged victim, forfeiting your right to own weapons, and being included on the Domestic Violence Registry.
How can a Lawyer Beat a Terroristic Threats Charge in NJ
A terroristic threat conviction can alter your life irreparably, which is why it is critically important to choose an experienced criminal defense attorney who can stand by your side the whole way through the criminal process from start to finish. You will need legal counsel with expertise to negotiate with the prosecutor handling your case and to challenge any illegal or unethical practices that threaten your constitutional rights. Additionally, an attorney can challenge the charges head on by casting doubt to the jury as to whether you threatened anyone at all. We can often cast doubt on the credibility of a witness against you or whether the victim was reasonable in believing the alleged threat was serious or actual. Plus, a seasoned lawyer such as those at our Bergen County law firm can show facts that persuade the court of your innocence by evidence that you did not intend to create terror or that the other person did not believe you. We can also point to the fact that your history shows you are not a violent person and had no capability to carry out the threat.
Moreover, our lawyers can also fight for a lesser sentence. A third degree crime does not carry a presumption of prison time, like second degree crimes do. Thus, we can often convince the prosecutor of why you should not go to prison or that you are better served to return to society as a productive citizen after going through a diversionary program. With our criminal attorneys on your side, you can feel assured that you are getting heard in a criminal justice system through which many cases with many defendants pass without skilled legal representation.
Contact the Hackensack Offices of The Tormey Law Firm for a Free Consultation
For additional information regarding terroristic threats or other domestic violence charges in New Jersey, contact our centrally located Hackensack offices at (201)-330-4979. A member of our criminal defense team will be pleased to provide a free consultation about your case.