Cocaine Possession Lawyers in Bergen County NJ
Arrested with Cocaine, Need Lawyer Bergen County NJ
Possessing cocaine is a third degree crime in New Jersey under N.J.S.A. 2C:35-10. If found with cocaine on your person, at your residence, or in your car, no matter the amount, you may face up to five years in state prison and a steep fine, upwards of $35,000.00. You may have your license suspended, also, or ordered to do community service, probation, or drug counseling, in addition or in lieu of prison. You do not even have to physically possess cocaine for the law to apply. You can be in constructive possession and control over illegal drugs to be considered possessing them. So, if you are in a car, knowing there are drugs in the back seat, you may be in constructive possession of those drugs.
Since possession is a third degree crime without mandatory or assumed prison time, an experienced criminal defense attorney can help you get probation or Pre-Trial Intervention rather than prison, especially if you have a clean criminal history. And things get worse when authorities suspect you for intent to distribute or cocaine distribution. Even in the absence of these options, having a lawyer who knows how to help you throughout the criminal process and how to spot issues with the evidence that can be used to fight your case, can offer you the best chance to avoid incarceration. You can even avoid a conviction altogether if your lawyer gets cocaine charges dismissed.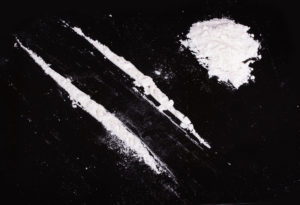 Travis J. Tormey and the attorneys at Bergen County's Tormey Law Firm have achieved countless successes defending clients charged with criminal and drug-related offenses, including illegal possession of prescription drugs, possession of drug paraphernalia, and possession of drugs in motor vehicle in towns such as Bogota, Dumont, and Edgewater. These highly skilled legal professionals have been appearing in New Jersey courtrooms for many years, becoming well-acquainted with the complexities of New Jersey's criminal justice system. With offices conveniently located in Hackensack, Mr. Tormey and his fellow attorneys appear in courts throughout Bergen County on a daily basis as dedicated legal advocates for their clients. To discuss your case with one of these lawyers free of charge, contact their offices anytime at (201)-330-4979, or fill out an online contact form.
Possession of Cocaine Charge: N.J.S.A. 2C:35-10(a)(1)
Possession of cocaine is a criminal offense in New Jersey governed by N.J.S.A. 2C:35-10(a)(1), which provides:
§ 2C:35-10. Possession, use or being under the influence, or failure to make lawful disposition
a. It is unlawful for any person, knowingly or purposely, to obtain, or to possess, actually or constructively, a controlled dangerous substance or controlled substance analog, unless the substance was obtained directly, or pursuant to a valid prescription or order form from a practitioner, while acting in the course of his professional practice, or except as otherwise authorized by P.L.1970, c.226. Any person who violates this section with respect to:
(1) A controlled dangerous substance, or its analog, classified in Schedule I, II, III or IV other than those specifically covered in this section, is guilty of a crime of the third degree except that, notwithstanding the provisions of subsection b. of N.J.S.A. 2C:43-3, a fine of up to $ 35,000.00 may be imposed;
Penalties for Cocaine Possession in New Jersey and Sentencing Alternatives 
Cocaine possession in New Jersey is a third degree criminal offense. These charges must be handled at the Superior Court in the county in which the alleged offense occurred. If convicted, you will have an indictable (felony) criminal record and you are facing three (3) to five (5) years in New Jersey State Prison. However, if you have no prior criminal record, there is a presumption of non-incarceration. As such, if this is your first offense, you may be considered a good candidate for probation. Moreover, you may be eligible for the Pre-Trial Intevention (PTI) program, which can allow you to avoid a criminal record if you successfully complete the diversionary program. Potential penalties of a cocaine possession charge in New Jersey include:
A felony conviction on your background (which can be expunged in 5-10 years depending on your criminal record)
Fines of $35,000-$75,000
Probation
3-5 years in State prison
Drug Court
Driver's license suspension of 6-24 months
Community Service
Distribution of Cocaine Offenses in New Jersey are governed by N.J.S.A. 2C:35-5
Specific drug distribution crimes in New Jersey are addressed by N.J.S.A. 2C:35-5 of the NJ criminal code. If you are arrested and charged with a cocaine distribution offense, you will likely be charged under this statute. Additionally, it is important to understand that a person can be charged with a drug distribution crime in New Jersey even if they did not actually sell or otherwise distribute drugs. The statute defines "distribution" broadly to include possession with intent to distribute. What could this mean for you? If you were found by police with a large quantity of cocaine, it's possible for law enforcement to infer that you were holding the drugs to sell later, and you could then be charged with a drug distribution offense. The key question that prosecutors are likely to ask in these cases is: Does the amount or weight of drugs found in the defendant's possession suggest that the drugs were not likely to be for personal use? If the answer to this question is "Yes," then you could face charges for distributing cocaine even though you did not actually attempt to sell any drugs as of yet and law enforcement did not catch you in the act of making a drug transaction.
Drugs are classified by the New Jersey Drug Schedules. These schedules are codified in the NJ Controlled Dangerous Substances Act, which regulates drugs with the potential for abuse. In the majority of cases, the more dangerous the drug, the more extreme the consequences for illegally distributing that drug. For instance, heroin is a Schedule I drug, cocaine is a Schedule II drug, and cough syrup is a Schedule V drug. However, the NJ Drug Schedules do not necessarily determine the grading of a drug distribution charge or the penalties that come with a conviction. Rather, the charge is graded based on the amount of the substance associated with the alleged offense:
First degree distribution – Possession of five (5) ounces or more of cocaine with intent to distribute. This is punishable by 10 to 20 years in New Jersey State Prison, and there is a presumption of incarceration
Second degree distribution – Possession of more than one-half ounce but less than five (5) ounces of cocaine with intent to distribute. This is punishable by five (5) to ten (10) years in New Jersey State Prison, and there is a presumption of incarceration.
Third degree distribution – Possession of less than one-half ounce of cocaine with intent to distribute. This is punishable by three (3) to five (5) years in New Jersey State Prison, and there is a presumption of non-incarceration if the defendant has no prior criminal history.
Possession vs. Distribution – Factors to Determine Charges
Some of the factors that the police and prosecutors will consider when charging you with possession of cocaine vs. distribution of cocaine include the following:
The amount of drugs in your possession
The way the drugs are packaged (lots of little packages, one large package)
Are there scales present?
Were police present during a drug transaction? Are there any other witnesses to a drug sale?
Is there a lot of cash present in the defendant's possession?
Does the defendant have multiple cell phones?
Are there any drug ledgers?
Challenging a Cocaine Case in Bergen County
An experienced cocaine lawyer in Bergen County will examine all the facts and circumstances of your case and challenge all aspects to get you the best possible result in court. Some of the potential challenges include:
Challenge the traffic stop – If there was no probable cause for the traffic stop, any subsequent search and drugs found would be excluded as fruit of the poisonous tree
Challenge the search – How were the drugs found? Were they in plain view? Is there video evidence of the search? Did the defendant allegedly consent to a search of the vehicle? Was the consent valid? The defendant must be informed of their rights and the right to refuse the search for it to be valid. Was a search warrant obtained? Is the search warrant legal and valid?
Challenge the chain of custody – Does the State have proof of the chain of custody as to how the drugs were taken to the police station and then sent out to the lab for testing?
Challenge the lab reports, results – The lab report must be provided to show that what you had in your possession was in fact cocaine. Are there any potential challenges to the lab reports or results?
Contact The Tormey Law Firm in Hackensack, NJ for Help with Your Case
If you are facing charges for possession or distribution of cocaine in Bergen County, New Jersey, contact an experienced criminal defense lawyer for help. Our attorneys are on-call to provide immediate assistance. Just call our Hackensack, New Jersey offices at (201)-330-4979. You can also fill out our online contact form to schedule a free consultation about your case or an in-person appointment at our office.