Elmwood Park NJ Criminal Attorneys
Defending Clients Charged with Criminal Misdemeanor and Felony Offenses in Elmwood Park, New Jersey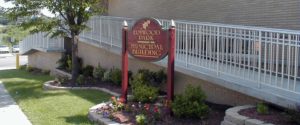 If you are facing a criminal charge in Elmwood Park, New Jersey, it is critical to understand the potential penalties you may be facing and the collateral consequences associated with a conviction. A criminal defense attorney with experience handling these kinds of cases can serve as an invaluable asset as you seek to aggressively confront these allegations. The defense lawyers at the Tormey Law Firm have accumulated a breadth of knowledge in the realm of criminal and DWI defense in Bergen County and throughout New Jersey. Travis Tormey is an Alcotest 7110 certified DWI defense lawyer, one of just a small handful of lawyers in the state who are certified on the breath-testing machine. He and his team of talented attorneys have handled thousands of criminal cases, achieving great results for their clients facing charges including marijuana possession, disorderly conduct, and possession of drug paraphernalia in Elmwood Park and surrounding Bergen County municipalities. For some of our client reviews, click here. Otherwise, contact our office anytime at (201)-330-4979 for a free consultation with an experienced Elmwood Park criminal defense attorney. You can also schedule an in-person meeting by contacting us online.
Elmwood Park NJ Municipal Court Information
Elmwood Park is a borough in Bergen County, NJ. The borough has a population of nearly 20,000 people and a total area of 2.8 square miles. The Garden State Parkway, Interstate 80, Route 4, and U.S. Route 46 all serve Elmwood Park. With highly trafficked roadways spanning the town, officers from the Elmwood Park police are continuously engaged in law enforcement activities, often leading to arrests, criminal charges, and traffic citations for residents and visitors accused of violating the laws of the state. Defendants facing misdemeanor charges (known as disorderly persons) in Elmwood Park are sent to Elmwood Park Municipal Court to answer for these charges. The Municipal Court also hears motor vehicle and municipal ordinance violations.
The Elmwood Park Municipal Court is located at 182 Market Street. The court office is open Monday-Friday 8:30am to 4:00pm, and the court office can be contacted directly at 201-796-1457 (ext. 603).
For more information on the Elmwood Park Municipal Court, please visit their website.
Hon. Anthony Gallina is the Judge.
Kellie M. Reyes is the Prosecutor
Andrew M. Cimiluca is the Alternate Prosecutor
Deborah Zafonte is the Court Administrator.
Directions to Elmwood Park Municipal Court:
Serious Consequences for those Facing Criminal Charges in Elmwood Park
When it comes to what a particular defendant is facing, potential penalties associated with a criminal charge in Elmwood Park depend on the nature and degree of the charges. New Jersey law classifies criminal offenses among several tiers: petty disorderly persons offenses, disorderly persons offenses, fourth degree crimes, third degree crimes, second degree crimes, and first degree crimes. Those offenses are ordered from least serious to most serious. The first two types of disorderly persons charges are handled in local Elmwood Park Municipal Court. More serious indictable crimes fall under the jurisdiction of the Bergen County Superior Court.
So, if you're charged with a disorderly persons offense in Elmwood Park, this is the type of case that Elmwood Park Municipal Court will hear. As far as consequences, you face up to 6 months in the county jail, a fine of up to $1,000, and a charge on your criminal record. There are other possible penalties that the court may impose, including community service, probation, restitution payment, driver's license suspension, and more. Although traffic violations don't result in a criminal record, the penalties for charges like driving under the influence of a controlled substance are severe and can significantly alter your life for the worse.
Notably, there are ways to avoid a criminal conviction and the repercussions thereof. For example, charges like simple assault may be resolved with anger management or a mutual agreement with the victim to drop the charges and avoid contact moving forward. Other offenses involving drugs may be dismissed after successfully completed a program for first offenders. The court diversions available are similar but these include conditional discharge in municipal court and Pre-Trial Intervention in superior court, respectively. On top of that, there may be defenses available that can be used to beat the charges outright. These are fact-specific and must be crafted based on the individual case and associated evidence. Regardless of what you are charged with in Elmwood Park, you should seriously consider talking to a skilled criminal lawyer who knows how to defend people in your situation. Contact our defense firm for further information about your charges.
Other Helpful Links and Information About Elmwood Park NJ
The Elmwood Park Police Department is located in the Elmwood Park Municipal Building at 182 Market Street and can be contacted at 201-796-0700. For more information on the Elmwood Park Police Department, please visit their website.
Call an Elmwood Park NJ Disorderly Persons Defense Lawyer for a Free Consultation
If you are facing criminal charges in Elmwood Park, NJ, call the Tormey Law Firm at (201)-330-4979. Take advantage of the chance to talk to an experienced criminal defense attorney who has represented thousands of people just like you. The initial consultation is always free.