Bergen County Aggravated Assault on a Police Officer Defense Attorneys
With offices at 254 State Street in Hackensack, New Jersey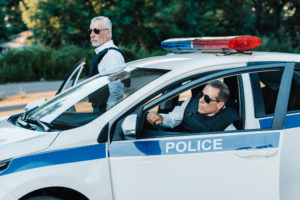 We tend to think of assault arising out of a bar fight or a domestic incident, but when it involves a police officer, New Jersey prosecutors consider these offenses particularly egregious. As such, any kind of assault committed upon a police officer can be classified as aggravated assault, even if the offense itself would have constituted simple assault if the alleged victim was not a member of law enforcement. Overall, if you are convicted of aggravated assault on a police officer, you could be facing up to 10 years in New Jersey State Prison, in addition to the other penalties discussed below.
Clearly, if you have been charged with aggravated assault, you will want to speak to a knowledgeable and skilled criminal defense attorney. The Tormey Law Firm is comprised of a team of highly aggressive criminal defense lawyers, including an active New Jersey prosecutor. With experience on both sides of the court room, we understand how prosecutors think and we know how to formulate the best possible defense against your aggravated assault charge.
Our attorneys have extensive experience defending clients charged with violent crimes, including second degree aggravated assault, resisting arrest, and disorderly conduct, throughout New Jersey, in municipalities such as Fort Lee, Mahwah, and Paramus. We have used this wealth of accumulated knowledge to develop a series of advanced defense strategies, some of which are outlined in our video series: "How to Beat Assault Charges."
If you are facing an aggravated assault charge, contact us immediately at (201)-330-4979 for a free consultation about your case.
Aggravated Assault on a Police Officer in New Jersey: N.J.S.A. 2C:12-1(b)
Aggravated assault in New Jersey is governed by N.J.S.A. 2C:12-1(b), which prohibits a person from attempting to cause bodily injury to another person. Depending on the degree of the injuries sustained by the victim, aggravated assault can be classified as a second degree offense, a third degree offense, or a fourth degree offense, all of which entail penalties with varying degrees of severity.
If the victim is "seriously" injured – meaning that the injury created a risk of death or caused permanent disfigurement to the victim, the offense is classified as a second degree felony, which is punishable by up to 10 years in State Prison. Additionally, due to the fact that these charges tend to involve "violent" assaults, the No Early Release Act (NERA) may apply. The NERA has devastating consequences, as it requires individuals convicted of violations enumerated under this statute to serve at least 85% of the sentence imposed before becoming eligible for parole.
On the other hand, if the aggravated assault charge is brought as a third degree offense, the defendant may be sentenced to serve between 3 and 5 years in New Jersey State Prison, while a fourth degree charge may result in up to 18 months of incarceration upon conviction. As mentioned above, it is important to remember that even a simple assault charge can be elevated to third degree aggravated assault when the assault is committed against a police officer.
Contact the Hackensack Criminal Defense Attorneys at The Tormey Law Firm for Immediate Assistance 
The legal team at The Tormey Law Firm knows how to fight assault charges because our practice is devoted solely to criminal and drunk driving defense. Case law in these areas is our primary focus, all day, every day, so that we can best serve the interests of our clients. Call our Hackensack, NJ office today at (201)-330-4979 for a free consultation about your case.