Bergen County Criminal Defense Firm with offices in Hackensack NJ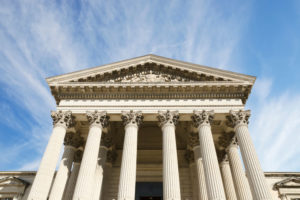 When you face criminal charges that can result in a prison sentence, fines, probation, and a permanent charge on your criminal record, you want to put your trust in a lawyer who understands the gravity of the situation — a lawyer who sees each client as a real person and not the latest in a long string of faceless defendants.
I am Travis J. Tormey, Esq., the founding attorney of the Tormey Law Firm in Hackensack, New Jersey. I left two of the largest criminal defense law firms in the state to establish my own practice, primarily to provide the type of hands-on legal counsel that is not always attainable at a larger firm, as it churns through a high volume of cases.
In my years of practice, I have represented clients charged with disorderly persons offenses, felony charges, and motor vehicle violations throughout New Jersey. All in all, I bring an aggressive approach and a thorough knowledge of the law to criminal defense.
My office is conveniently located in Hackensack, in the heart of Bergen County, where I have earned a strong reputation among prosecutors and judges in local, state, and federal courts. I focus strictly on criminal and DWI defense so that I am able to stay abreast of developing case law in these practice areas, allowing me to provide my clients with cutting-edge legal defense.
What we Offer when Defending Your Case 
If you select my firm to represent you, we begin by listening carefully to all of the information regarding your case, in order to develop a thorough sense of your goals with regard to the outcome. We are very cognizant of the fact that no one is served by setting unrealistic expectations, so we are committed to providing a straightforward assessment of your case. From there, we will work together to achieve our shared vision of a favorable result.
My clients and I form a dynamic relationship that continues to develop throughout the legal process. The attorneys at my firm always take the time to completely explain each component of the case as it progresses, ensuring that you understand all of your options and are actively engaged in the decision-making process.
In many of our cases, particularly those involving DWI charges, we call on experts and other specialists to complete independent investigations in order to identify weaknesses in the prosecution's argument. We enter into pretrial negotiations only after assessing the facts of a case, evaluating it from every angle, and determining that it is in the best interest of the client to discuss a plea alternative. On the other hand, if the facts of the case warrant going proceeding to trial, we have the courtroom experience to see it through.
Contact Us
Contact the Bergen County law offices of The Tormey Law Firm at (201)-330-4979 for a free initial consultation. Our talented criminal defense attorneys are available day and night to meet your needs and provide the answers to all of your legal questions. You can also contact us via email or schedule an appointment at our office, conveniently located across the street from the Hackensack Municipal Court and just steps from the Bergen County Courthouse in Hackensack, New Jersey.