Pointing a Firearm Attorneys in Bergen County, NJ
Criminal Attorneys for Fourth Degree Aggravated Assault Charges in Hackensack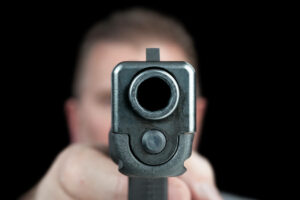 You point two fingers shaped like a gun at someone's face and pull the trigger, or you point an unloaded gun at someone's face and pull the trigger, or you point a loaded gun at someone's face and do not pull the trigger. Which one is illegal? Unbeknownst to many, all three are illegal in New Jersey. Though you cannot hurt someone by pointing your fingers at them, the target of your simulated gun may take your gesture as a threat for future harm. In that case, you might be liable for simple assault or menace. Victims of this crime feel as if they are in danger of physical harm, even if it is not immediate (N.J.S.A. 2C:5-1(d)). Though the other two instances may also be assault, they are more specifically fourth-degree aggravated assault, also known as the crime of pointing N.J.S.A 2C:12-1b. If you or someone you love is facing aggravated assault and/or weapons charges for pointing a weapon in Bergen County, consulting with a diligent lawyer is the best decision you can make in your defense. The attorneys at The Tormey Law Firm have handled thousands of weapons cases and assault and threat charges that occurred in Fort Lee, Paramus, Teaneck, Elmwood Park, Mahwah, East Rutherford, Garfield, and many others in North Jersey. For a free consultation with a member of our defense team today, contact our local office in Hackensack at (201)-330-4979.
New Jersey Pointing a Firearm Offense
Pointing a gun at someone is considered a callous act. When you know someone will fear for their life with a gun pointed at them, you demonstrate that you place no value on that person's life. An element of the crime of pointing is that extreme disregard for another's life. So, if the gun is loaded, you risk accidentally shooting where you pointed the gun, even if you never intended to pull the trigger. If you point a gun at someone despite the risk, a prosecutor can show you had no care about the outcome of pointing a gun at someone, even beyond the terror that such an act produces in the victim. The relationship between the gun holder and the target determines how the act of pointing is perceived. So, two friends clowning around with a gun they both verified is empty may not amount to pointing if one accidentally points the gun in the other's direction.
If the police arrest and charge you with fourth-degree aggravated assault for pointing a firearm, the statutory sentencing penalties can go as high as 18 months in prison plus up to $10,000 in fines.
Brandishing a Weapon at a Police Officer in NJ
If the target is a member of law enforcement, that is an entirely different matter. Pointing a firearm, fake gun, or laser mechanism at a police officer is a third-degree crime. The increased penalties for a higher-grade crime make sense when you consider that police officers are more likely than anyone to have a gun pointed at them with the intent to harm or kill them. With that psychological framework arising from their job conditions, pointing a gun at a police officer can provoke a rapid, violent response of preemptive fire. In other words, a police officer does not hesitate to consider whether the person pointing the gun at them is kidding, mistaken, or unserious. As a result, they are more likely to shoot in defense of being shot at first. Thus, the circumstances surrounding most scenarios of pointing a firearm justify a third-degree grade of pointing.
Third degree crime penalties are considerably higher than fourth degree, allowing for 3 to 5 years of imprisonment with high fines of up to $15,000. This offense also falls under The No Early Release Act, which requires a convicted person to finish at least 85% of the mandated sentence before parole eligibility.
Possession of a Weapon for an Unlawful Purpose Charges for Pointing a Gun
So, if you point a gun at someone in anger to punish or threaten them, you have used a weapon to commit assault, an unlawful reason to point a gun at someone. Worse still, possessing a weapon for an unlawful purpose is a second-degree charge with a far greater price to pay: up to 10 years in prison and a $150,000.00 fine. As such, the simple act of pointing a gun at someone can mean a sentence of at least five to ten years in prison, plus any sentence for the aggravated assault charge. Second-degree crimes require a judge to sentence you to prison unless you can rebut the presumption for incarceration. Moreover, a firearm possession for an unlawful purpose charge is a No Early Release Act crime that requires one convicted of this crime to serve a mandatory minimum sentence of 85%.
Charged with Aggravated Assault for Pointing a Firearm in NJ?
Whether the state charges you with multiple violations for pointing a firearm or only one offense, you are going to need help defending yourself in court. If you want to negotiate a plea or fight the charges at trial, you will need an experienced criminal attorney to help you handle the legal process and determine the best option to pursue to alleviate the heavy consequences of pointing offenses, aggravated assault, and weapons charges. After all, the prosecutor's job is to aggressively seek a conviction, especially if you pointed a firearm at an officer. Prosecutors and judges lean in on those threatening police officers and seek maximum penalties to discourage interference with police work.
With our attorney's assistance at The Tormey Law Firm, you might get other charges dropped, fight the fourth-degree pointing charge, or successfully apply for Pretrial Intervention. For a first-time offense, you could complete a probationary program like Pretrial Intervention and clear your record. You may have a harder time with a second-degree crime, but your chances are better with a fourth- or third-degree crime. However, if you are charged with a second degree crime in addition to pointing a firearm, we can seek to get a Graves Act Waiver first since firearms charges are subject to mandatory minimum sentences under the Act. When the provisions of the Act result in an overly harsh prison sentence, the court may be inclined to waive the Act's mandates or lessen the punishment, especially if the prosecutor is on board. And a prosecutor is more likely to cooperate with a skilled criminal attorney who can convince them of your strengths and the prosecutor's case weaknesses.
Contact The Tormey Law Firm to find help from a criminal defense lawyer who will forcefully defend your interests to reduce, dismiss or negotiate your pointing a gun charges to your best advantage. You can receive a free consultation by contacting (201)-330-4979 anytime, day or night, to speak to an attorney.