Englewood Possession of a Controlled Dangerous Substance (CDS) in a Motor Vehicle Defense Attorneys 
Pulled Over, Caught with Drugs in My Car – Need a Lawyer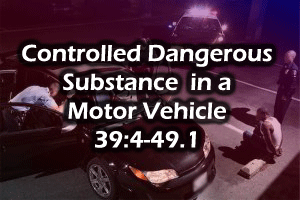 If you were pulled over by police and arrested for possession of a controlled dangerous substance (CDS) in a motor vehicle, you need to take the charges very seriously. Although these charges are actually classified as motor vehicle violations under New Jersey law, they may be accompanied by criminal charges such as possession of heroin, which entail additional penalties. Clearly, if you are facing these charges, it is critical to speak with a lawyer immediately.
Travis J. Tormey and the attorneys at Bergen County's Tormey Law Firm have accumulated a lengthy list of successes defending clients charged with criminal and drug-related offenses, including possession of marijuana, possession of drug paraphernalia, and aggravated assault in municipalities such as Lodi, Hackensack, and Rutherford. These talented attorneys have been appearing in New Jersey courtrooms for many years and have become well-acquainted with the nuances of New Jersey's legal system. With offices conveniently located in Hackensack, Mr. Tormey and his fellow lawyers appear in courts throughout Bergen County on a daily basis as dedicated legal advocates for their clients. To discuss your case with one of these lawyers free of charge, contact their offices anytime at (201)-330-4979, or fill out an online contact form.
Possession of Drugs in a Motor Vehicle in New Jersey: N.J.S.A. 39:4-49.1
Possession of a Controlled Dangerous Substance (CDS) in a motor vehicle is governed by N.J.S.A. 39:4-49.1, which provides:
§ 39:4-49.1. Drug possession by motor vehicle operator
No person shall operate a motor vehicle on any highway while knowingly having in his possession or in the motor vehicle any controlled dangerous substance as classified in Schedules I, II, III, IV and V of the "New Jersey Controlled Dangerous Substances Act," P.L. 1970, c. 226 or any prescription legend drug, unless the person has obtained the substance or drug from, or on a valid written prescription of, a duly licensed physician, veterinarian, dentist or other medical practitioner licensed to write prescriptions intended for the treatment or prevention of disease in man or animals or unless the person possesses a controlled dangerous substance pursuant to a lawful order of a practitioner or lawfully possesses a Schedule V substance.
A person who violates this section, except a person who violates the provisions of N.J.S.2C:35-10, shall be fined not less than $50.
Penalties for Possession of CDS in a Motor Vehicle in New Jersey 
Possession of a controlled dangerous substance (CDS), namely any illegal drugs, in a motor vehicle is a very serious traffic offense in New Jersey. In fact, a conviction for this traffic offense results in $50 fine, and if you possessed the drugs illegally, you can also be charged with violating New Jersey's drug possession statute. So, if you are arrested and charged with possession of drugs in a motor vehicle, you are generally facing criminal charges as well as very serious traffic charges.
Contact The Tormey Law Firm in Hackensack, NJ for Help with Your Case
Do not take any chances when it comes to your freedom and your reputation. If you've been accused of possession of CDS in a motor vehicle, contact an experienced criminal defense lawyer for help. Our attorneys are on-call to provide immediate assistance. Just call our Hackensack, New Jersey offices at (201)-330-4979. You can also fill out our online contact form to schedule a free consultation about your case or an in-person appointment at our office.