Ridgefield Park Possession and Distribution of Xanax Defense Attorneys 
Arrested with Xanax without a prescription in Bergen County? We can help.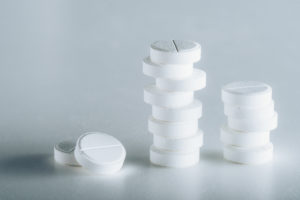 Xanax is a muscle-relaxation medication, the main ingredient of which is Alprazolam. It is typically used to treat depression, anxiety, and panic attacks. Unfortunately, Xanax is also highly addictive, making it one of the most popular "recreational use" drugs in New Jersey and across the United States. Abusers of the drug often crush the pills and inhale them through the nose, "snorting" the drug in a similar fashion to cocaine. Even people who use the drug for legitimate medical reasons can become dependent on it. Because of the high rate of abuse of Xanax, New Jersey prosecutors do not hesitate to seek the maximum punishments in Xanax cases.
Travis J. Tormey and the attorneys at The Tormey Law Firm are highly experienced criminal and drunk driving defense attorneys, who often represent clients charged with drug crimes such as possession of drug paraphernalia, possession of CDS in a motor vehicle, and prescription drug offenses in Bergen County and throughout New Jersey, including in Hackensack, Paramus, and Mahwah. With an impressive track record of successes, we pride ourselves on achieving positive results and consistently exceeding our clients' expectations.
For example, one of our clients described us this way: "Hiring Travis made my entire situation way less stressful. Travis is an excellent defense attorney and from my experiences with him, he shows very strong knowledge of constitutional rights, yet blends that with superb negotiating skills in court as well as tremendous charisma in front of the judge. Travis and his team do a great job of not only taking the stress out of the process but also getting you the best legal representation you could hope for." To read more of our client reviews, visit Avvo.com.
To learn more about how the attorneys at Bergen County's Tormey Law Firm can help you to overcome the drug charges against you, contact our Hackensack, NJ offices at (201)-330-4979. You can also submit an online contact form and/or schedule an appointment to meet with us at our convenient Hackensack location. Continue reading to learn more about Xanax charges in New Jersey.
N.J.S.A. 2C:35-10.5 Xanax Law in New Jersey 
In New Jersey, it is illegal to carry prescription drugs and certain medications unless you hold a valid prescription. Under N.J.S.A. 2C:35-10.5, possession and/or distribution of Xanax is prohibited unless carried out by a licensed physician, dentist, veterinarian, or pharmacist.
As set forth by the Controlled Substance Act, Xanax is a Schedule IV controlled dangerous substance (CDS). Schedule IV drugs have an accepted medical use but can lead to physical and psychological dependence. The penalties for possession or distribution of Xanax vary, depending on the number of pills that are seized.
Second Degree Xanax Possession, Possession with Intent to Distribute, Distribution
The most serious charge is second degree intent to distribute Xanax. This is typically the charge if the offender possesses 100 or more pills and does so for financial gain. If convicted, an offender could be looking at five (5) to ten (10) years in New Jersey State Prison, with a presumption of incarceration. You could also be hit with a $300,000.00.
Third Degree Xanax Possession, Possession with Intent to Distribute, Distribution
In New Jersey, possession of between five (5) and 99 Xanax pills without a valid prescription is a third degree crime. If you are convicted of third degree possession of Xanax, you could be looking at a sentence of three (3) to five (5) years in New Jersey State Prison and a fine of up to $200,000.00.
Fourth Degree Xanax Possession, Possession with Intent to Distribute, Distribution
If you possess four (4) or fewer Xanax pills, it is classified as a fourth degree felony. This is punishable by up to 18 months in state prison.
Disorderly Persons Offense: Xanax Possession
In accordance with N.J.S.A. 2C:35-24, possession of four (4) or fewer Xanax pills is a disorderly persons offense. This essentially means that if you are caught with a pill outside the bottle or container in which it was dispensed, you could be charged with disorderly persons possession of Xanax. Moreover, just being under the influence of Xanax in public without a valid prescription can be a disorderly persons offense. If convicted, you face up to six (6) months in the county jail and a fine of up to $1,000.00.
Disorderly Persons Offense: Failure to Turn Over Xanax to a Police Officer
A related charge is failure to turn over Xanax to a law enforcement officer. As set forth by N.J.S.A. 2C:35-10(c), failing to turn over drugs to police is a disorderly persons offense. Many times, this will be a downgraded charge that prosecutors use in a Xanax case. If convicted of this charge, you could face up to six (6) months in the county jail, a $1,000.00 fine, and suspension of your driver's license for at least six (6) months.
Contact Our Hackensack Drug Charge Defense Lawyers
If you've been arrested on Xanax charges, you may be eligible for a diversionary program such as the Pre-Trial Intervention (PTI) program or the conditional discharge program, depending on your prior record and the degree of your charges. Also, if your arrest in any way violated your constitutional rights, we may be able to assist you in dismissing the charges entirely. For a comprehensive assessment of your prescription drug charges case in New Jersey, contact our offices anytime at (201)-330-4979. Consultations are always provided free of charge.