Final Restraining Order Lawyers in Fort Lee NJ
Domestic Violence Attorneys with offices in Hackensack, New Jersey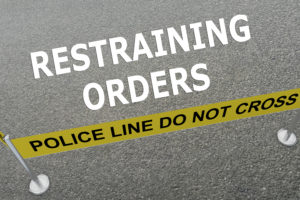 Our firm was recently retained to represent a client at a final restraining order (FRO) hearing in the Bergen County Superior Court located in Hackensack, New Jersey. The client was a victim of domestic violence when his daughter in law attacked him and injured him in their home where he lives with his son and his grandchildren. The daughter in law was charged criminally with simple assault and a temporary restraining order (TRO) was issued against her as well. In retaliation, she filed a restraining order against our client and his son (her husband) and all of these restraining orders were scheduled for trial in Bergen County.
All parties retained counsel and a settlement discussion was initiated. Our client did not want to have a trial and preferred to settle the case amicably for the sake of his son and his grandchildren. The parties proceeded with a divorce action and a civil restraints agreement was drafted to temporarily settle things while the divorce case was pending. Civil restraints agreement can address things like where the parties will live, temporary custody, financial support, division of property, and any other items the parties wish to negotiate as part of the settlement.
Based on the creation of this consent agreement (known as a civil restraints agreement), all parties agreed to dismiss the restraining orders against the other party. In addition, our client agreed not to pursue the criminal case for simple assault that was pending in the municipal court. He wanted this matter behind him and closed for the best interests of his family.
All parties spoke to the Bergen County domestic violence counselors and were explained the cycle of domestic violence. They signed paperwork acknowledging same and that they wanted to voluntarily dismiss the domestic violence restraining orders that were pending in court in Hackensack. Then, all of these facts and the dismissals were placed on the record before the Bergen County Superior Court Family judge. The civil restraints agreement and the stipulations were also placed on the record and docketed under the divorce case.
Need Representation for Restraining Order Hearing in Bergen County NJ? Contact Us Now
Our client was very happy with this outcome and the representation he received from the restraining order attorneys at the Tormey Law Firm LLC. If you or a loved one needs assistance with a  Bergen County domestic violence case, contact our Hackensack offices today for immediate assistance at (201)-330-4979. The initial consultation is always provided free of charge.