Criminal Charges and the Threat to Immigration Status
You May Deal with Additional Immigration Issues if You Face Criminal Charges as a Non-Citizen or Green Card Holder in New Jersey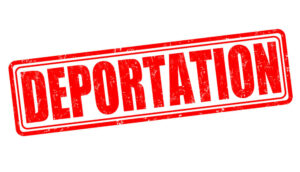 Criminal charges and convictions can have devastating effects on the personal and professional life of any individual, but if you are a non-citizen, you may also be facing immigration consequences as well. How a criminal charge or conviction will impact your immigration status depends on your current immigration status, the type of crime you are accused of, and when the alleged offense occurred. In this article, we will summarize the most important information you need to know about what crimes could lead to a deportation and what to do if you are accused of a crime as a non-citizen.
Risks of an Inadmissibility Status as a Non-Citizen
Title 8 of the U.S. Code, the Immigration and Nationality Act (INA), sets forth the grounds for "removability" or deportation of non-citizens from the U.S. It also outlines the conditional under which a non-citizen is inadmissible or not eligible to lawfully enter the U.S. Individuals who enter the U.S. illegally that is, without proper inspection at a U.S. port of entry and/or without proper documentation, are removable based on not having been admitted. These individuals are deportable whether or not they commit any crime on the basis of their unlawful status in the U.S.
If you are an undocumented non-citizen in the U.S., being arrested for a crime—even if you aren't convicted—can put you on the radar of immigration officials and result in a deportation. Specifically, if you are arrested for a crime, you may be referred to Immigration and Customs Enforcement (ICE) the law enforcement branch of the U.S. Department of Homeland Security. ICE may take you into custody and place you in removal proceedings before an immigration judge.
Is Deportation a Possibility Even with a Legal Status in the US?
Even immigrants with proper status through a visa or green card holders (legal permanent residents) can be deported as a result of a criminal conviction. It is also important to note that if an immigrant with a proper visa is convicted of a crime and then leaves the U.S., they may not be eligible for admission to lawfully return to the U.S.
Which Crimes Can Lead to Deportation in New Jersey?
Crimes Involving Moral Turpitude (CIMTs) and Multiple Offenses
If you have lawful status in the U.S. and are convicted of a crime that is classified as a crime involving moral turpitude (CIMT) that has a maximum possible sentence of one year or more and you committed the crime within 5 years after the date you were admitted to the U.S, you are deportable. You can also be deported if you are convicted of committing two or more CIMTs more than 5 years after the date you are admitted to the U.S, so long as the multiple offenses were not part of a single scheme or did not arise from the same incident. CIMTs are not expressly defined in the INA but have been described in case law as crimes which "shock the public conscience" or are contrary to our accepted rules of morality. Examples of crimes that constitute a CIMT in New Jersey include but are not limited to murder, stalking, kidnapping, theft, and sexual assault.
Aggravated Felonies
If you are convicted of an aggravated felony, which in New Jersey is referred to as an aggravated indictable offense, you are deportable and subject to expedited removal proceedings. Examples of aggravated felonies (indictable offenses) in New Jersey include but are not limited to murder, aggravated assault, aggravated sexual assault, possession of child pornography, and illicit trafficking of controlled substances.
Drug Offenses
A conviction for any controlled substance offense, with the exception of a single offense of possession of less than 30 grams of marijuana for personal use, renders a non-citizen deportable.
Firearms Violations
Any weapons offense conviction for illegally possessing, using, selling, or transporting a firearm may result in deportation.
Domestic Violence Offenses
A non-citizen is deportable from the U.S. if they are convicted of a crime of domestic violence, child abuse, child neglect, child abandonment, stealing, or violating a protective order.
Call our Team if You Face Charges Threatening Your Immigration Status in Bergen County NJ
If you have been charged with a criminal offense as a non-citizen, the first most important thing to do is to seek the help of a skilled and experienced criminal defense attorney, as avoiding a conviction for the offense may be vital to avoiding a deportation and will certainly be vital to your success in other areas of life. Defendants must be cautious about accepting an offer to participate in Pre-Trial Intervention (PTI) in New Jersey, as an initial guilty plea (for a charge which is later dismissed under PTI) will be considered a conviction under immigration law and could result in an order of removal (deportation).
Furthermore, due to the many nuances around the type of offense you are convicted of and its potential effect on your immigration status, you should seek the help of an exceptionally well-versed criminal defense lawyer who is knowledgeable about the immigration implications of your case. Contact us to speak with a criminal defense lawyer regarding your case and the immigration consequences you may face if it doesn't go your way. Better yet, enlist our help to zealously defend your innocence and avoid the negative implications of a conviction in the first place. We defend clients facing criminal charges ranging from Extortion to Assault with a Deadly Weapon in Lodi, Paramus, Garfield, Mahwah, Fort Lee, Palisades Park, Teaneck, Hackensack, Montvale, Paramus, and towns throughout the Bergen County area. Contact (201)-330-4979 now for a free consultation.