Bergen County Theft by Extortion Attorneys
Defending Clients Facing Extortion Charges in Hackensack, New Jersey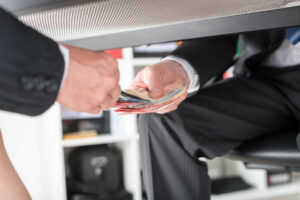 Theft of any kind is a serious charge in New Jersey that faces severe consequences. One particular type of theft that carries considerable penalty is theft by extortion. According to N.J.S.A. 2C:20-5, extortion is theft or attempted theft of another person's property, including money, by using threats. Threats include that bodily harm, dissemination of private information, strike, and others. There are many types of activity that are considered extortion under New Jersey law. If you have been charged with extortion in Lyndhurst, Lodi, Hackensack, Fort Lee, Mahwah, Garfield, Rutherford, Paramus, and other towns in the greater Bergen County area, you need the immediate assistance of experienced criminal defense attorney. Contact a member of our team today at (201)-330-4979 and learn more about extortion crimes in New Jersey and how we can assist with forcefully defending your case.
What Proves Theft by Extortion Beyond a Reasonable Doubt in NJ
There are four distinct elements of extortion that must be proven in an extortion prosecution. It must be proven that the defendant, the person charged with extortion, received money or property from the victim. Additionally, this property must have been received as a direct result of a threat. Third, the threat must have been made specifically to receive the property. Finally, this threat must be baseless.
In the State v. McKeiver New Jersey Supreme Court case, we learned that verbal and mental threat and coercion carry the same weight as physical harm. The state's high court ruled that mental force is seen as equal to physical force, and therefore consequences of coercion or threat carry grave penalties equal to those of physical harm. In other words, a threat is considered an aggravated offense.
Potential Legal Consequences for Theft by Extortion in New Jersey
In an extortion case, the type of threat and amount of money or property received as a result of the threat do not change the penalties for extortion. It is a very serious crime treated as a second degree indictable offense or felony. Extortion carries a prison sentence of five to ten years, as well as up to a $100,000 fine. Because the crime is included in New Jersey's No Early Release Act, a convicted individual must serve at least 85 percent of their sentence before being eligible for parole. Additionally, the conviction remains on one's criminal record and cannot be expunged. The severity of the threat, given similar weight to physical harm, was backed up in the New Jersey Supreme Court case State v. McKeiver.
Extortion Offense Eligibility to Apply for Pre-Trial Intervention in NJ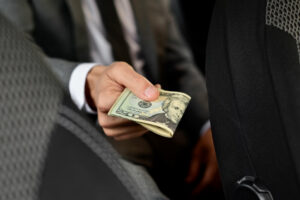 Extortion is not considered eligible for pre-trial intervention. Despite this, in some non-generic situations, your attorney can negotiate for approval from the prosecutor for you to apply to pre-trial intervention. If it is clear, however, that the prosecution has a strong case against you, your skilled criminal defense attorney may move you towards a plea bargain, with the opportunity of a lesser charge and sentence. For this reason, having the representation of a skilled and experienced criminal defense attorney for your extortion charge is immeasurably important.
Additional Charges in Extortion Cases
Often an extortion charge is accompanied by other charges. Depending on the circumstances of the threat and surrounding actions, additional co-charges include attempted robbery, kidnapping, criminal restraint, false swearing, and domestic violence, though this list is not exhaustive, and charges depend on the nature of the crime committed. Notably, extortion and criminal coercion differ in the material they work with. Extortion attempts to control another's material possessions based on threats. Coercion, on the other hand, attempts to control another's actions based on threats.
Contact a Paramus Extortion Lawyer to Defend Your Charges
The severity of a criminal extortion charge in New Jersey cannot be overstated. There are serious life-changing consequences of an extortion conviction, including a criminal record following at least 85 percent serving of your five to ten year sentence. An experienced defense attorney like those on our team, however, can often help negotiate your charge to either be eligible for pre-trial intervention or exchange your guilty plea for a reduced charge or sentence, shaving years off of your prison time and tens of thousands of dollars. When the state's case has deficiencies, we use our extensive trial experience to litigate the case before a jury and pursue a dismissal in the form of a not guilty verdict. If you have been arrested, accused, or charged with theft by extortion in Englewood, Ridgefield Park, Palisades Park, Wyckoff, North Arlington, Fairfield, or another Berger County town, contact us today to speak with an attorney regarding your case. Call our Hackensack office at (201)-330-4979 today or complete our online form for an initial free consultation.