Facing Criminal Charges At Teterboro Airport
We Defend Clients who Find Themselves Arrested for Criminal Offenses at Teterboro Airport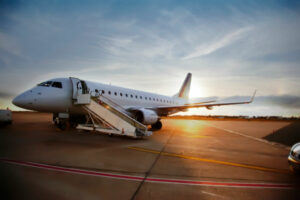 Nestled in scenic Teterboro, New Jersey is the highly esteemed Teterboro Airport, more commonly referred to as TEB. Positioned conveniently 12 miles (19 kilometers) northwest of Midtown Manhattan in New York City with direct access to major highways, this general aviation airport draws attention from those seeking an easy point-to-point commute.  Teterboro has a vibrant combat heritage that dates back before World War I and II when it used to serve as a military airfield station.
Upon being transformed into an Aviation facility catering to a wide range of private planes, TEB boasts large numbers of private jets and corporate and charter aircraft, making it one of the most bustling general aviation airports in the United States.
The airport has two parallel runways expanding over a vast area of approximately 827 acres (334 hectares).  Runway 1/19 stretches and measures nearly 7000 feet(2,133 meters), while Runway 6/24 stands tall, extending over 6,013 feet (1,833 meters). Teterboro Airport earns its reputation as a premier destination airport, exclusively catering to private jets, corporate aircraft, and charter flights. Commercial airlines operate from somewhere else, but this does little to impact its successful general aviation operations. The airport's air traffic control operates 24/7, ensuring safe and efficient operation during all flight-related activities. Passengers are spoiled with a range of amenities, including aircraft maintenance and repair services, fueling options, hangar facilities(available at competitive cost), individual passenger terminals(for supreme privacy), customs plus immigration services on-site, ground handling service along with gourmet catering options served on site.
Who is in Charge of Law Enforcement at Teterboro Airport?
Law enforcement at Teterboro Airport is the responsibility of multiple agencies, each with specific roles and jurisdictions. Teterboro Airport's primary law enforcement agency is the Port Authority Police Department. The PAPD is a specialized police force responsible for protecting and serving the facilities operated by the Port Authority of New York and New Jersey, including Teterboro Airport. PAPD officers provide law enforcement, security, and emergency response services at the airport.
Teterboro Airport depends considerably on TSA (Transportation Security Administration), which performs crucial security functions that cannot be understated. Not only does it carry out thorough screenings of passengers' bags and items for compliance with federal aviation regulations, but it also sets stringent safeguards promptly in response to any incidents that pose any risks.  
The FAA oversees civil aviation matters in the broader sense across America, keeping checks for adherence to FAA protocol, safety measures, and rules.  Moreover, such principles dictate that any lapses shall be dealt with accordingly, enabling them to keep pilots and passengers safe. Meanwhile, local law enforcement agencies like Moonachie Police Department remain keenly observant regarding happenings within their jurisdiction around the airport's perimeter area. They are poised to maintain public safety while offering timely responses during emergencies.
Common Criminal Charges People Face at Teterboro Airport
Whether you are a billionaire or an everyday traveler, your bags and suitcases are screened like everyone else at the airport.  If you are found with items from the TSA's naughty list, you could face weapons charges in New Jersey.  All weapons must be in a checked bag, unloaded, with nothing in the chamber.  Ammunition must be locked in a safe box with hard sides (not in a duffle bag or a Walmart grocery bag).  The box must lock with a key or a combination that only the owner knows.  If you are checking your weapons, you must advise the gate agent that you have them, have a permit, and are properly secured.
Some weapons charges at the airport involve possession of batons, switchblades, brass knuckles, and other weapons that are not gun related. Illegal possession of air guns, bb guns, or pellet guns are a third degree crime, while carrying a handgun without a New Jersey permit to carry is a second degree crime.
Another frequent offense is disorderly conduct. Perhaps a passenger becomes belligerent with airport officials who need to check his documentation and scan his luggage.  He starts yelling obscenities and racial slurs, threatening officers, and yelling at anyone within 10 yards of where he is standing.  When he is arrested for disorderly conduct, his case will be seen in the Teterboro Municipal Court and he could receive up to six months in jail.
Possession of a controlled substance for the purposes of distribution or trafficking is a grave offense that may occur in the airport. There is a misconception that having a private plane means you can transport anything you see fit without scrutiny. However, possession or trafficking of controlled substance charges differs based on the amount of the drug found.  Based on the evidence, for instance, if cocaine was packaged into little plastic bags in large quantities, a distribution charge could be added.  Drug charges in New Jersey are severe and can result in jail or prison time and expensive fines.  You don't want to ruin your annual jaunt to the family cabin nestled in the Poconos due to a drug charge.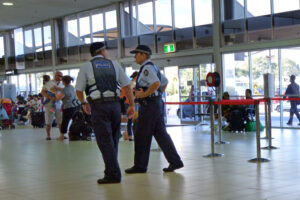 Arrested at Teterboro Airport, What Court Will Hear My Case?
If you are arrested for a disorderly persons offense (known in other states as a misdemeanor), your case will be heard in the Teterboro or Moonachie Municipal Court.  Disorderly persons offenses are criminal offenses and will go on your record.  For those with no prior criminal record, there is a presumption of non-incarceration, but if you have had many prior problems with the law, you could face jail time. Cases involving more serious charges are called indictable offenses (also known as felonies) and are seen in the Bergen County Superior Court.
Contact our Defense Attorneys if You are Facing Teterboro Airport Criminal Charges
Being arrested is twice as complicated if you are not a New Jersey resident because it is not a place familiar to you.  Your friends and family are far away, and you are basically on your own.  You need legal representation, and you need it now. If you are a resident of New Jersey, you still need a strong criminal defense attorney who can work with you to get your charges dropped or downgraded to a lesser offense. The attorneys at our firm can review your case and determine your best defense options. Often, we can negotiate a deal that could keep you out of prison. In other cases, we can facilitate your application to PTI (Pre-Trial Intervention), coordinate community service, or exercise your parole options.  Our criminal defense lawyers have the strategies and knowledge necessary to help you in this stressful situation, whether you were returning to New Jersey through Teterboro Airport or were just passing through.
Call our office today at (201)-330-4979 for a free consultation. We understand how criminal charges have life-altering consequences, and we are here to help.