Pulled over by Police in Bergen County NJ
Stopped by Police in Hackensack?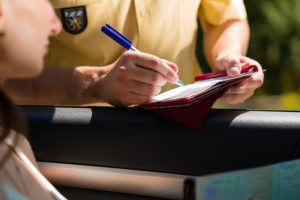 Virtually everyone will be pulled over by the police at some point in their lives. Regardless of how common it is, getting stopped by police can still be a frightening experience, even if you have not done anything wrong. If you plan to drive in New Jersey, you should keep the following general tips and information in mind when dealing with a traffic stop. If you have already been pulled over and are now facing charges for a criminal, DWI, or serious traffic offense in Bergen County, it is very important to speak with an experienced criminal defense lawyer and find out what your options are. The criminal lawyers at our firm are here to answer your questions about charges arising from a motor vehicle stop in Bergen County, including in Paramus, Garfield, Hackensack, Mahwah, Lodi, Palisades Interstate Park, Elmwood Park, and surrounding communities. Call our local office in Hackensack at 201-330-4979 for a free consultation with an attorney who can help.
Traffic Stops in Bergen County: What You Should Know
When police stop you, it is often a tense situation. Do not be defensive or confrontational. Instead, you should generally comply with the police's orders. Stay in your vehicle, and keep your hands on your steering wheel. If it is in the evening, it is also a good idea to turn on your dome light, so the officer can see into your vehicle. You should always keep your hands where the officer can see them.
You are required to show your license, registration, and insurance card. Most officers will immediately ask for this information when they stop you.
If the officer asks you to get out of the car, you should generally do so. However, you can also ask why they want you to get out of the car as well. Once you have provided your license, resignation, and insurance, you can ask why you were pulled over, too. The officer is only allowed to stop you if they think you have committed an infraction or you are a safety hazard to yourself or others.
It is always a good idea to remain calm, cool, and collected. You will be able to think more clearly if you can keep your emotions in check during the stop.
Do I have to allow a search of my vehicle?
If the officer asks to search your vehicle, you can (and should) decline unless the officer can provide you with a warrant. Keep in mind that you cannot be arrested for refusing to consent to a search. The police can search your vehicle if they have probable cause to do so. For example, if the officer thinks you are driving under the influence of drugs or alcohol, they may search your car for open containers or illegal substances. In that situation, a search without a warrant may be completely valid. If the police do not have any reason to believe evidence is your vehicle, they cannot search it, however. This is considered a violation of your constitutional right to privacy.
What if my Rights were Violated?
If you feel that your rights have been violated, you should try to remember everything about the stop. What was the officer's name? What did he or she look like? What made you feel like your rights were violated? When you are away from the stop, write everything down that you can recall. Your memory will fade over time, and having this information can help you defend against a criminal charge or ticket.
Pulled over in Bergen County, Need a Lawyer to Defend Me
There are situations where a motor vehicle stop is not valid because of how the officer conducted the stop. Evidence that was gathered in a traffic stop may also be suppressed if the traffic stop was not legal. Learn more about your rights during and after a traffic stop by contacting our Bergen County criminal defense law firm. Our experienced criminal attorneys can help you determine what your rights are after a potentially invalid stop and build the best defense against your charges. Call our local Hackensack office now at 201-330-4979 to speak with a member of our team or contact us online. We provide free consultations and phones are answered 24/7 to best assist you.