How to Get a Restraining Order in Bergen County NJ
Filing for a Restraining Order in Bergen County, New Jersey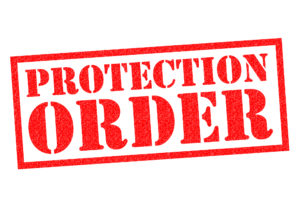 Restraining orders were developed in New Jersey as a result of the Prevention of Domestic Violence Act in 1991. This Act was designed to help protect victims of domestic violence. One provision of the act permits a victim to obtain a restraining order so that an offender cannot come into contact with them without facing serious consequences. If you have been the victim of domestic violence in New Jersey, you can file for a Temporary Restraining Order (TRO) to protect your safety. After that, you will have a hearing where a judge can issue a Final Restraining Order (FRO) to permanently prohibit the abuser from communicating or coming into contact with you. The following is an explanation of the process for filing a restraining order in New Jersey. For further assistance with getting a restraining order in Bergen County, contact our Hackensack office today at (201)-330-4979 or fill out our online form.
How to Get a Restraining Order
Domestic violence often includes a crime of a violent nature, including things like false imprisonment, assault, stalking, and harassment. The parties involved are connected by a family-based relationship, such as being a spouse or former spouse. The term domestic violence also extends to domestic partners, those who are dating or have a child in common, and anyone else who lives in the same household together. Gender is not a factor.
A restraining order is a means to address continued domestic violence by requiring that the parties stay away from one another, including restrictions on going to the victim's home, place of work, or an area where the domestic violence occurred. This often includes both physically and through other means of contact, such as phone calls, text messages, and social media.
Applying for a Restraining Order in Bergen County
You can file for a restraining order in one of three locations:
Where the defendant lives
Where the domestic violence occurred
Where you live or where you are temporarily sheltered or staying
That means that if any of these happened in Bergen County, you should apply for your restraining order here.
In Bergen County, you can for a restraining order with the Family Court, also known as the Bergen County Family Division. These will be handled by the domestic violence unit, who are trained to deal with situations like yours. You can reach this division Monday through Friday from 8:30 a.m. to 4:30 p.m. You can also apply for a restraining order in your local municipal court. However, if it is an emergency, you can also get help after hours as well. You should do this by contacting the Bergen County Sheriff's Office or your local police department.
How Temporary Restraining Orders become Final Restraining Orders
You will first need to obtain a temporary restraining order (TRO). Getting a TRO does not require that the defendant appear personally in court. Instead, the judge considers the circumstances and determines that the situation is severe enough to warrant issuing a restraining order without the presence of the abuser or harasser present. TROs are appropriate where an immediate act of domestic violence has occurred, the defendant has a prior history of domestic violence, and the victim needs a restraining order to ensure their health and safety. You must also have standing to request such an order. The term "standing" refers to the legal right to start an action. Someone has standing to seek a TRO when he or she was or is in a dating relationship with the defendant, you and the defendant lived together at some point, you're family members, or you and the defendant have a child together.
TROs are designed to be established quickly because there is a relatively immediate threat of violence or harassment. After a TRO is issued, the next step is a hearing in the Superior Court, Family Division. At a restraining order hearing, the judge hears all of the evidence presented by both parties and decides whether or not to issue a Final Restraining Order (FRO). The FRO ensures that the defendant is not permitted to contact you or be near you indefinitely. There is no expiration date on a restraining order in New Jersey.
Restraining Order Attorneys in Hackensack, NJ
The experienced restraining orders lawyers at The Tormey Law Firm can help you take action if you are the victim of domestic violence in Bergen County. Do not wait if you feel threatened or afraid of someone you have or had a relationship with. Call our centrally located office in Bergen County today for immediate assistance with obtaining a restraining order. We can be reached anytime at (201)-330-4979 to provide you with a free consultation.