Super Bowl NJ Coverage: NFL Players Arrested in 2013
By Travis Tormey posted in Drunk Driving (DWI) on Wednesday, January 29, 2014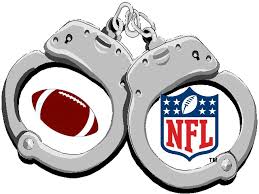 With the Super Bowl on the horizon, New Jersey law enforcement officials are expecting an increase in the number of citizen arrests made on game-day. Interestingly, a USA Today database compiles a list of all of the NFL players who were arrested, charged, or received citations for crimes other than typical traffic violations in 2013. The inventory includes the names of 50 members from the National Football League.
Encompassing data from January 1, 2013 through November 25, 2013, the index includes four players who were ultimately charged, one who received a citation, and the remainder of whom were arrested. The four players charged include Aldon Smith, who was charged with three counts of unlawful possession of a weapon on October 9th in connection with a June 2012 incident during which he was stabbed at a party; and Nigel Bradham, who was charged with possession of marijuana following a traffic stop on August 17th. In addition, Von Miller received a citation on September 5th for driving with a suspended license.
Last year, the most severe of the charges were brought against Aaron Hernandez, who was indicted for homicide after his arrest on June 26th and is currently being held without bail. The other extremely serious charges were brought against Ausar Walcott, who pleaded not guilty to attempted murder charges and is accused of punching a man in the head outside of a night club. Both of these cases are pending.
In New Jersey, homicide is governed under N.J.S.A. 2C:11-3, is considered a crime of the first degree, and is punishable by a term of 30 years to life in prison. Additionally, an attempted murder conviction in New Jersey carries a sentence ranging from 10 to 30 years in New Jersey State Prison.
The other offenses for which the remaining players were arrested include: domestic violence offenses, drug offenses, driving under the influence, disorderly conduct, public intoxication, failure to appear in court, outstanding warrants, illegal possession of a handgun, unlawful possession of a weapon, resisting arrest, simple assault, solicitation, criminal mischief, attempted murder, and homicide.
The most common of the charges against these NFL players pertained to offenses involving domestic violence, drugs, and driving under the influence. The highest number were for DUI, with 13 total players arrested. Although the DUI charges in this list occurred in a variety of states, drunk driving is one of the most aggressively prosecuted crimes in New Jersey. For example, penalties for a first-time DWI offense can include up to 30 days in jail and the revocation of your driver's license for a maximum of one year. Further, a driver with multiple DWI convictions faces as many as six months in jail as well as the loss of his or her driver's license for up to 10 years.
To access the complete list of NFL players, see the following link: NFL PLAYER ARRESTS
Tags: Bergen County NJ Super Bowl DUI Defense Lawyer, East Rutherford NJ Super Bowl Disorderly Conduct Attorney