Vehicular Homicide Attorneys in Bergen County
Advocating for Clients Facing Death by Auto Charges in Hackensack, NJ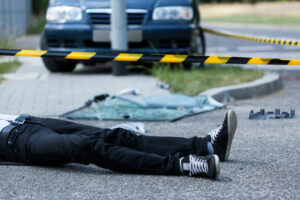 Everyone on the road is responsible for keeping the streets safe. Unfortunately, the rise in distractions while driving has made New Jersey roadways extremely dangerous for motorists, passengers, bikers, and pedestrians alike. When momentary negligence on the road leads to a tragic accident, it can change the life of everyone involved, including their families. If you've been charged with killing someone with your vehicle, you need the immediate support of a criminal defense attorney to help you receive the minimum sentence possible.
Our team is experienced in successfully representing clients charged with vehicular homicide in Fort Lee, Ridgefield Park, Paramus, Teaneck, Palisades Interstate Park, Bergenfield, Lodi, and surrounding Bergen County areas. in vehicular homicide cases. Explore with our attorneys what vehicular homicide is, what the punishments are for those convicted, and why you need an aggressive defense attorney if you've been charged with this severe indictable crime in New Jersey. Contact our Hackensack office by calling today for a free consultation at (201)-330-4979 to speak to one of our lawyers immediately. Whether it be reckless driving, DWI, or another violation that came about in tandem with vehicular homicide/death by auto charges, we are poised to listen to your case and start building your defense.
Facing Vehicular Homicide Charges in New Jersey
Vehicular homicide, also called vehicular manslaughter, is a charge associated with a crime in which someone's negligent or unlawful behavior behind the wheel of a vehicle causes someone else's death. According to Section 2C:11-5 of the New Jersey Code of Criminal Justice, 'death by auto or vessel' is a felony offense. The reckless behaviors that could cause vehicular homicide include driving while under the influence of drugs or alcohol, falling asleep, texting while driving, or otherwise operating a handheld device while driving. Motor vehicle violations that could lead to vehicular manslaughter include speeding, running a red light, running a stop sign, failing to yield, crossing double yellow lines, and not stopping for a pedestrian at a crosswalk.
Understanding Reckless Vehicular Homicide and How to Prove It
Certain dangerous behaviors while driving could lead to someone else's death on the road. These behaviors can be considered reckless when they lead to an accident or tragic death and are proven to reflect another violation of New Jersey law. As explained above, examples include drunk driving, using a cell phone, and dozing at the wheel. In order to prove recklessness, the prosecution must prove by inference that the defendant was in violation of New Jersey laws related to driving while deprived of sleep, operating a handheld device, or driving under the influence and that violation of these laws constituted recklessness that led to an accident causing the death of another individual.
Sentencing for Vehicular Homicide in NJ
Vehicular homicide is a second-degree felony or, in certain cases, a first degree felony. If reckless behavior or violation of New Jersey traffic laws result in killing someone with a vehicle, the vehicular homicide will be charged as a second degree crime. However, if the death occurred in a school zone or school crossing, vehicular homicide will be charged as a first degree felony. The severity of a vehicular manslaughter charge is greatly increased when the crime takes place within 1000 feet of a school property, particularly if youth are present during the time of the accident. Also, if the accident occurs while a person is driving with their license suspended or they leave the scene of the accident, the charge will be increased to a first degree felony.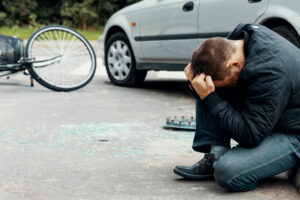 The penalties for second degree vehicular homicide can include fines of up to $150,000 and up to 10 years in jail. The penalties for first degree vehicular homicide include fines of up to $200,000 and up to 20 years in jail. In some cases, a driver's blood alcohol level plays a role in sentencing. In vehicular homicide cases that involve a DWI, a minimum sentence must be served, which includes jail time and revocation of a driver's license.
Strict Liability in Vehicular Homicide Cases
Under Section 2C:11-5.3 of the New Jersey Criminal Code, a defendant is liable for the entirety of the accident, regardless of whether or not it was their intent. Additionally, they cannot use as their defense an attempt to prove that the victim was partially responsible for their death. This is a distinct third degree crime that someone may be charged with for driving while intoxicated and being involved in an accident that resulted in another's death.
Contact a Paramus Vehicular Homicide Lawyer to Defend Your Case
As it is clear to see, if you have been charged with vehicular homicide, you need a criminal defense attorney who has expansive knowledge and experience challenging that state's allegations in these cases in your corner. Because of the massive implications that a second or first degree felony can have on your life and your future for decades to come, you need someone who is going to help you defend your case to the fullest extent and determine the correct strategy to get the charges reduced, dismissed, or otherwise resolved with a better outcome. Remember, it is the job of the prosecutor to prove beyond a reasonable doubt that you were driving recklessly or had violated traffic laws when the accident occurred.
Our experienced criminal law team will help you defend against a vehicular homicide offense in Lyndhurst, Saddle Brooke, Garfield, Rutherford, Elmwood Park, Wyckoff, and other towns in the greater Bergen County area. Contact us at (201)-330-4979 for further information. We provide free consultations 24/7 and can also arrange an appointment to meet with you at our Hackensack office.