Ramsey Criminal Defense Attorneys 
Need Lawyer for Disorderly Conduct Charge in Ramsey? We Can Help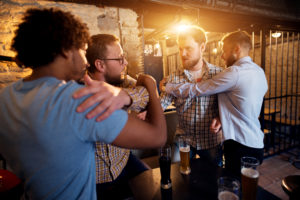 Arrested for disorderly conduct in Ramsey? Need a Lawyer? Call Us Now.
Recently, Travis J. Tormey represented a client charged with disorderly conduct, in violation of N.J.S.A. 2C:33-2(a), in the Ramsey Municipal Court. This is a petty disorderly persons offense, which results in a maximum $500.00 fine, 90 days in jail, and a permanent criminal charge on an offender's record if convicted. The defendant was charged with being intoxicated in public after attending a wedding where he allegedly had too much alcohol to drink. He had no prior record and was in his mid-thirties. He also was employed at a local hospital as an EMT and had been a volunteer fireman for the township of Fair Lawn in the past.
When Mr. Tormey first appeared in court, the State offered a guilty plea in exchange for just a fine, with no probation or jail time. Unfortunately, a plea of guilty to this offense would result in a criminal record, which would almost certainly cause the defendant to lose his job at the hospital. So Mr. Tormey requested a conference with the arresting officer at the next court date. In the meantime, Mr. Tormey had his client submit to a comprehensive alcohol evaluation and attend several Alcoholics Anonymous (AA) meetings to deal with any alcohol-related issues that he might have.
On the next court date, Mr. Tormey explained the situation to the arresting officer, who agreed to dismiss the disorderly conduct charge and instead issue an ordinance violation, resulting in just a fine but no criminal record. This was a great relief to the client, who was able to keep his job at the hospital. This case represented a major success for the Tormey Law Firm and a life-altering positive outcome for our client.
One client put it this way:
"When my back was against the wall and all hope seemed lost, Travis Tormey did what was needed to keep me out of jail and help me avoid a criminal record." 
Disorderly Conduct Charges Ramsey NJ – Need a Lawyer
For a free consultation about the charges against you or someone you love, contact the Hackensack offices of The Tormey Law Firm at (201)-330-4979, or submit an online contact form. One of our criminal defense attorneys will be happy to discuss your case over the phone or to schedule an appointment to meet with you in person. And for more reviews, see our page on Avvo.com.