Mountainside Simple Assault Defense Attorneys 
Client Found "Not Guilty" By Judge After Trial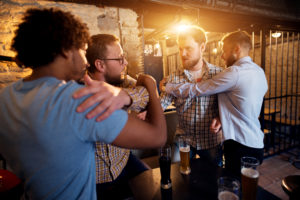 Do you need a lawyer for a misdemeanor assault charge in Mountainside court? Contact us now for help.
Travis J. Tormey represented a client in Mountainside Municipal Court recently on a simple assault charge in violation of N.J.S.A. 2C:12-1(a), a disorderly persons offense. The client was facing a $1,000.00 fine, up to six (6) months in the county jail, and a permanent criminal charge on his record if convicted. The alleged victim refused to negotiate regarding the charges and the case proceeded to trial.
If you are charged with a disorderly persons offense in New Jersey, you are not entitled to a jury trial. As a result, this case was tried before the local Municipal Court Judge in Mountainside. The facts were as follows: Our client was at a storage facility on route 22 in Mountainside with his wife when an argument ensued with another man who was using the facilities. The parties, both men in their 40s, essentially wrestled around on the ground for a minute before the altercation was over. The police were called and interviewed all parties involved. They declined to press any charges and everyone was allowed to go their separate ways. However, the alleged victim later filed charges known as a civilian complaint alleging aggravated assault on behalf of our client.
This case was downgraded by the Somerset County Prosecutor's office to simple assault and the case was heard in the Mountainside Municipal Court. The alleged victim claimed serious injuries including hearing loss and that his "head was bashed into the concrete close to a dozen times" but he somehow did not go to the hospital or receive any medical treatment until almost a week later. After testimony of the defendant, his wife, the alleged victim, and the police officers who were called to the scene, the judge dismissed the charges, as they were not proven beyond a reasonable doubt. The client and his family were extremely satisfied with this result.
Need Lawyer Simple Assault Charge Mountainside NJ – Call Us Now
For a free consultation with one of our highly experienced criminal trial attorneys, contact the Hackensack offices of The Tormey Law Firm at (201)-330-4979.