Montvale Restraining Order Defense Lawyers 
Need Attorney Restraining Order Case Bergen County? Call Us Now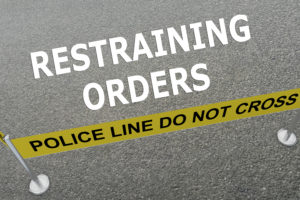 Do you want to file a restraining order in Montvale in Bergen County NJ? Has you been served with a temporary restraining order (TRO) in the borough of Montvale and you need to appear in court in Hackensack? The Tormey Law Firm can help. Here is a real restraining order case we successfully handled for a client with a domestic violence matter in Bergen County.
Travis J. Tormey recently represented a client at a Final Restraining Order (FRO) hearing in the Bergen County Superior Court located in Hackensack, New Jersey. Our client was a girl in her early twenties who was dating a young man who's parents did not approve of the relationship. She was often over his house and his father would continually throw her out of the house because he did not approve of their dating. Then, the father filed a restraining order against her to try and keep her out of the house for good.
Once a temporary restraining order (TRO) is filed, the final hearing is usually scheduled within ten days once the defendant is served with the restraining order. A defendant can represent themselves or hire an attorney to represent them at the final hearing. It is always important to have an attorney represent you in these trials because lawyers know the proofs required and the rules of evidence when dealing with the Judge. In addition, these restraining orders in NJ are permanent and never expire so it is crucial that a TRO gets dismissed and a FRO is not issued against you.
Unfortunately for the father, he did not have standing under the NJ Prevention of Domestic Violence Act to file a restraining order against his son's girlfriend because they were not related, they never dated, and they never lived together. Although his attorney tried to argue that her staying over their house a few times constituted living together, the Judge did not agree and dismissed the restraining order based on a lack of standing for the plaintiff. This was a very satisfying result for our client and the law firm.
How do You Know if You Have Jurisdiction in a Montvale Domestic Violence Case?
In order to qualify as a victim of domestic violence and be eligible to file for a restraining order, you need to meet certain qualifying relationship criteria. The Prevention of Domestic Violence Act recognizes a variety of relationships, current and previous, that make someone eligible for protection. In particular, you must be at least 18 years old or an emancipated minor, and you must have experienced domestic violence committed by a spouse (current or former), household member (now or in the past), person with whom you have or are soon to have a child (in cases of pregnancy), domestic partner (presently or previously), dating partner, or ex.
If you qualify as a victim, you must also have experienced one of the recognized predicate acts of domestic violence committed by the plaintiff. These actions can range from aggravated assault to stalking, harassment, criminal mischief, and more. Notably, an act of domestic violence does not need to cause actual injury to the person seeking the protection order. It can include conduct that puts a person in fear of immediate injury, or threatening behavior by the abuser.
Also, victims of domestic violence may seek protection for their loved ones and family members. For instance, if you and the other person share children, the person seeking the order may request that the court recognize and include the children as protected persons under the FRO. Of course, in some cases, a restraining order is used as a weapon against the other person in the midst of a heated divorce of child custody dispute. For this reason, it is essential to have a qualified restraining order and domestic violence lawyer handling your case.
Served with Temporary Restraining Order in Montvale, New Jersey? We Can Help
If you are involved in a domestic violence case in Montvale or another town in the greater Bergen County area, our firm is primed to assist you. To speak with one of our aggressive restraining order defense attorneys about your case, contact our Hackensack offices anytime at (201)-330-4979. Consultations are always provided free of charge.