Shoplifting Defense Strategy #3: Failure to Provide Discovery
Millburn Shoplifting Defense Lawyer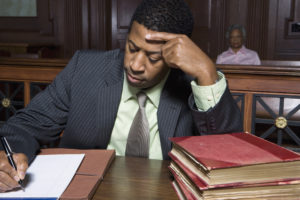 Another defense strategy that Travis Tormey uses to fight shoplifting cases in New Jersey revolves around the prosecution's failure to provide discovery in the case. In your shoplifting case, the municipal prosecutor must provide your attorney with a discovery package. This includes all of the police reports and any witness statements. Many times, this can also include a video of the alleged offense.
The prosecutor must provide all of this evidence. If the prosecutor fails to provide a discovery package in a reasonable amount of time, Mr. Tormey will file what is known as a "Holup" motion. In a case called State vs. Holup, the Superior Court of New Jersey, Appellate Division, held that the prosecutor must provide defense attorneys with discovery evidence within a reasonable amount of time.
In your case, Mr. Tormey will get the judge to sign a "Holup" order stating that if the prosecutor does not provide the discovery evidence within a certain number of days, then the case against you should be thrown out. At a minimum, that evidence will be officially excluded, so the prosecutor will not be able to use the evidence against you at trial.
Shoplifting Defenses in NJ: Criminal Defense Attorney
There are several other shoplifting defenses we use to challenge shoplifting cases. These defenses include:
A shoplifting conviction in New Jersey can have serious and long-lasting consequences. Even if you are just convicted of a disorderly persons offense, you may be sentenced to a term of imprisonment of six (6) months in the county jail.
If you are facing a theft crime charge in New Jersey, do not hesitate to contact Mr. Tormey at (201)-330-4979 for a free consultation about your case.