How do I remove a final restraining order (FRO)?
Bergen County Restraining Order Lawyers with offices in Hackensack, New Jersey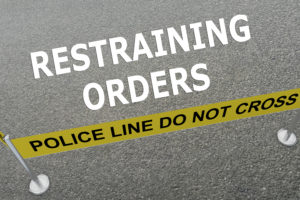 In order to remove a final restraining order in New Jersey, the plaintiff must voluntarily dismiss it or the defendant must file a motion to vacate it with the court. This is important because, in NJ, domestic violence restraining orders are permanent and never expire. So, if a final restraining order is issued against you, it will stay with your forever unless you are successful in having it vacated.
If you or a loved one needs assistance vacating a restraining order in NJ, the NJ restraining order attorneys at the Tormey Law Firm LLC can help. Our lawyers have extensive experience dealing with these issues in Family Court and have handled these cases is almost every county in the State of NJ. In addition, Mr. Tormey has been cited as a legal resource on domestic violence in several NJ publications and has appeared on CBS radio as a guest expert.
As a result, our attorneys are ready and able to assist you with your restraining order matters immediately at (201)-330-4979. The initial consultation is always provided free of charge.
Here is a review from one of our many satisfied restraining order clients in New Jersey:
"After receiving a Restraining Order by an ex girlfriend accusing me of harassment which was false, I contacted the law firm. They were very professional and help to keep me calm and relaxed. Travis and Chris helped me to get all the information I needed. I was also in the process of obtaining a high level position when this happened and was concerned about it affecting me getting the new job. Chris helped to get the case dismissed as quickly as possible and did an excellent job of keeping me informed. They are a great law firm and would recommend them to anyone."
How do I remove/vacate a permanent restraining order in NJ?
If a final restraining order has been issued against you, there are a couple of options to remove it. The first option is to appeal the issuance of the order by the judge, but you only have 45 days to do that from the issuance of the order. If that time has expired, then this is no longer an option for you. If you are still within the 45 day appeal period, you can file an appeal to the Appellate Division in Trenton. There must be a basis for the appeal such as a mistake of fact, mistake of law, the plaintiff failed to meet the burden of proof, the judge improperly considered evidence, etc.
The second option to have a final restraining order removed is if the victim voluntarily dismisses it. However, you cannot contact the plaintiff to see if they are willing to do that because that would be a violation of the restraining order and you would be arrested and charged with contempt of court. If the victim does voluntarily wish to dismiss the order, he or she must appear in court and place this on the record. The judge will confirm that they are doing so freely and voluntarily and that they are not being forced to do so. Once the judge confirms this, the restraining order will be vacated and dismissed.
The third option is to file a motion to have the restraining order removed. You must show the court that there has been a change in circumstances since the issuance of the order such as time passing, parties moving out of state, that there have been no violations of the initial order, and that the restraining order is no longer necessary to protect the plaintiff. If the motion is successful, the final restraining order will be vacated by the judge and dismissed. If the motion is denied by the court, then the final restraining order remains in place.
NOTE: If a temporary restraining order or final restraining order was issued against you and then dismissed, there is nothing to expunge or remove from your record because a restraining order is civil in NJ, not criminal. However, if you were arrested for a violation of that restraining order, then there is an arrest record that should be expunged.
I want to get rid of an old restraining order NJ – Contact the Tormey Law Firm Today
For immediate assistance potentially removing a restraining order in NJ, contact our Hackensack office now for a free initial consultation at (201)-330-4979.