Fort Lee DWI Defense Attorneys
The Borough of Fort Lee, New Jersey is a crossroads for New Jersey and New York City. This highly populated municipality is located at the eastern border of Bergen County and is where the George Washington Bridge connects on its western side. Since the George Washington Bridge is the most busy bridge in the world, crossed by over 103 million vehicles per year, it isn't surprising that Fort Lee is also a prime location for police to target drivers to arrest and charge with DWI and DUI. The number of traffic summonses issued in Fort Lee reflects the aggressive and continued approach of law enforcement in the area. According to the most recent data, there were 29,695 documented traffic offenses within an eight month span in the borough. DWI charges are included in this number and are often accompanied by other traffic tickets for speeding, reckless driving, careless driving, and eluding police. If you are facing charges for DWI/DUI after a motor vehicle stop in Fort Lee, New Jersey, you should know you are now exposed to severe consequences that can change your life for months or even years. With the potential for a lengthy driver's license suspension, heavy fines, court costs, insurance surcharges, an ignition interlock device, and even a jail term, it is essential that you effectively exercise your right to a vigorous defense.
At The Tormey Law Firm, our experienced NJ DWI defense attorneys are among the most highly trained and credentialed in the state when it comes to drunk-driving defense. Having successfully represented clients charged with a myriad of alcohol and drug-related offenses in Fort Lee, NJ, we know what it takes to have your charges dismissed and will do everything we can to deliver the best possible outcome. Our firm's founder, Travis J. Tormey, is one of a few New Jersey attorneys who is a certified Alcotest 7110 operator, the breath testing device used throughout the state to prosecute drunk driving cases. As such, Mr. Tormey understands the components of the machine, how it works, and can identify any issues with the functioning of the breath testing device. This knowledge and expertise can be used to attack the reliability of the breath test result in your case and may ultimately lead to the dismissal of your charges. To discuss your specific DUI charges with an experienced Fort Lee DWI attorney, contact our Bergen County office immediately at (201)-330-4979. A member of our team is available to answer all of your questions and the consultation is always provided free of charge.
Facing DWI Charges in Fort Lee NJ
Members of the Fort Lee Police Department and Port Authority Police force are always patrolling the George Washington Bridge and the area surrounding Port Authority, making motor vehicle stops a common occurrence.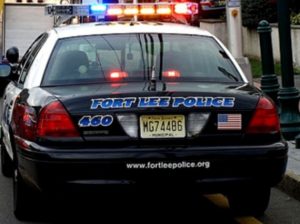 Anyone charged with driving under the influence of drugs, driving while intoxicated, or refusal to submit to a breath test in Fort Lee will be arrested and charged with a DWI offense. The violation, otherwise known as a summons, will have the court listed on the ticket that you receive. This ticket will include basic information like the court address and the date of your first required court appearance. Those charged with DUI in Fort Lee in this situation will usually be scheduled to appear in the Fort Lee Municipal Court, unless you are also charged with a felony for a crime like eluding as well, in which case your whole case is handled in the Bergen County Superior Court. Typically though, non-criminal cases involving only traffic offenses are handled in the local municipal court.
The Fort Lee Municipal Court is located in Borough Hall at 309 Main Street, Room G-01, Fort Lee, NJ 07024. There are two presiding judges in Fort Lee: John R. DeSheplo is the Judge for Criminal and DWI Offenses and Matthew Fierro is the Judge who hears traffic offenses. The criminal and DWI prosecutor is Arthur Balsamo, Esq. and the traffic prosecutor is Raffi Khorozian. DWI cases are scheduled for the first and third Tuesday of each month at 10:00am. The court office is open Monday-Friday 8:30am to 4:00pm, and the court office can be contacted directly at (201) 592-3500 (ext. 1509). The Court Administrator is June Keelen. You can visit the official website for Fort Lee Municipal Court for more information.
How Bad is a DWI Charge in Fort Lee?
Under New Jersey's DUI law, a violation of N.J.S.A. 39:4-50 is punishable by a suspension of your driver's license and ignition interlock device installed on your vehicle for a first DWI offense. If you have a prior DWI conviction on your driver's abstract, you will be charged with a second DUI offense, at which point the driver's license suspension increases to one to two years. For third and subsequent DUIs in New Jersey, a conviction carries a mandatory 8 year suspension of your driving privileges. It is important to note that New Jersey does not allow hardship licenses or negotiated pleas for lesser sentences in DWI cases, meaning you will lose your license no matter what if you're found guilty. Considering the gravity of this situation, if you have been arrested for DUI in Fort Lee, NJ, you need to find the best DWI defense lawyer who has the necessary knowledge and experience to successfully handle your case.
Can a Lawyer Help with my DUI Defense in Fort Lee
The best first move you can make after being charged with a DWI in Fort Lee is to contact an experienced DWI defense lawyer. A skilled attorney can examine the facts of your case, including the details of your traffic stop and arrest, and help you raise the strongest possible defense so that you can avoid conviction. Depending on the circumstances of your case, it may be possible to undermine key pieces of evidence so they cannot be used against you. In plenty of DWI cases, it is possible to challenge the police's probable cause for making a traffic stop in the first place. By law, police must have a legitimate reason to pull you over while driving. They can't just turn on their lights and siren because they have a hunch. Unless the police officer who arrested you for a DWI actually had a valid reason to stop your vehicle, it may be possible for your attorney to get the DWI charges dismissed because any evidence obtained by police after the stop would potentially be inadmissible in court. This would include evidence of breathalyzer results, field sobriety tests, or the police officer's observations of your behavior.
Sometimes, it is also possible to challenge the validity of the tests used by the prosecution to prove that a motorist was intoxicated. For example, an experienced attorney may be able to identify flaws in the Alcotest breathalyzer machine used by police to register your breath test results, which could invalidate evidence of BAC above the legal limit. Or if the police administered field sobriety tests to determine whether you were intoxicated, it may be possible for your lawyer to challenge the results because field sobriety tests are notoriously unreliable. Whether you performed poorly when you took the horizontal gaze nystagmus test, the walk-and-turn test, or the one-leg-stand test, your lawyer might be able to show that a negative result was caused by something other than intoxication, such as an injury or a health condition.
Regardless of the circumstances, however, you need to seriously consider consulting with an attorney before making any statements to police or prosecutors in your case. You only have one chance to protect yourself against manipulation tactics that are directly aimed at getting you to say something that can be used against you in a court of law.
DWI Lawyer in Fort Lee, New Jersey
The damaging repercussions of a conviction for DWI in Fort Lee, New Jersey make it all the more important that you enlist skilled legal counsel as soon as possible. At The Tormey Law Firm, our conveniently located office in Bergen County and our distinguished reputation as battle-tested DWI defense attorneys has made it possible for us to appear in Fort Lee Municipal Court on a regular basis fighting the DWI charges against our clients. To speak Mr. Tormey and the experienced Fort Lee DWI defense attorneys at The Tormey Law Firm, contact our office anytime at (201)-330-4979. Consultations are always provided at no cost to you.
Want to learn more about DWI charges and penalties in New Jersey? Watch Mr. Tormey's informational video series about New Jersey DUI on YouTube.