Bergen County NJ Drug Distribution in a School Zone Attorney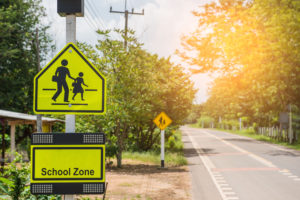 Distribution and intent to distribute drugs is criminalized in New Jersey and throughout the country. However, there are certain locations where there are heightened penalties because of the population and direct impact it can have on the most vulnerable populaces. This is particularly the case for distribution on or within 1000 feet of a school zone. Pursuant to N.J.S.A. 2C:35-7, a person may be facing a third degree charge for distributing or intent to distribute a controlled dangerous substance (CDS) within 1000 feet of school property or property used for school purposes. This can even include a school bus. On top of the charges you may face for distribution of a drug like heroin, cocaine, MDMA, or prescription drugs like Oxycontin, you may then face another charge for violating 2c:35-7. This means you are staring down even more consequences in connection with the same conduct.
Whether you are a juvenile or adult offender, your independence will be seriously compromised with a conviction of this nature. Ultimately, your defense strategy will be contingent upon the underlying events that led to the charges you are facing. Drug offenses involving school zones and school property are very serious in New Jersey, so it is extremely important to have a skilled attorney defending you or your child against these charges. A felony conviction will severely impact your background, can influence employment opportunities and so much more. Contact The Tormey Law Firm with offices in Hackensack, NJ if you have been charged with possessing with intent to distribute or selling drugs near a school in Fort Lee, Paramus, Teaneck, Elmwood Park, Bergenfield, Englewood, Ridgefield Park, East Rutherford, or another of the many Bergen County towns where we assist clients on a regular basis. Call (201)-330-4979 today for a complimentary consultation.
Drug Distribution on or Near School Property Charge in New Jersey 2c:35-7
An individual can be found guilty of distribution and/ or intent to distribute drugs if he or she is on school property, within 1000 feet of a school property, for example: school buildings and/or playgrounds on or near a school or may even be on a school bus. The State must prove that you actually sold or distributed drugs on or within a school zone, or had the intent to do so. Lacking knowledge that the property was a school zone is not a valid defense and easily refuted by proffering a school map, etc. In fact, the providing of a map is an essential piece to the State's argument to prove where the transaction or act occurred.
With that being said, what area is considered a school zone? A school zone for the purpose of this statute is generally an establishment with youth under the age of 18 years old. That is why technically colleges are not considered school zones because minors do not frequent colleges or universities.
Punishment for Distributing Drugs or Intent to Distribute in a School Zone
The penalties for this type of conduct range upwards of thousands of dollars (potentially $150,000). In addition, a conviction can result in serious prison time because one may be required to face a mandatory minimum sentence and parole ineligibility. Prison time ranges between three (3) to five (5) years of time behind bars. If you were arrested and remain in jail up until the resolution of your case, if you do not have an attorney argue to advocate for time served then the entire time you are in jail (leading up your sentence) the time you were in jail may not count. These are the little things that matter with regard to your case and how it is adequately disposed of.
A sentence under this section will ultimately be determined by whether the offense took place on the school property, if the defendant used or threatened violence in the course of the act and any other aggravating factors. Similarly, depending on the sentence and the crime you are sentenced to, parole ineligibility may be relevant. Parole ineligibility means that there is a specific amount of time that you will not be eligible for parole and you will be required to serve a specified time in prison. Accordingly, it is important to present the Court with as many favorable factors as possible. Thus, it is imperative to present as many mitigating facts and factors in order to encourage the Court to see all the advantageous aspects of your case.
In addition to that, a person may also face considerably larger fines, penalties and prison time if other charges are at hand. Usually, individuals also face intent to distribute, possession and other charges concurrently that will increase the severity of your charges. You can easily be slammed with multiple felonies for one poor judgment call: do not let it define your life by not getting adequate representation. Contact our Bergen County criminal law office for help and a free consultation today.
Are there ways to Defend Against School Zone Drug Distribution Charges in NJ?
In order to have a strong defense for distribution and intent to distribute drugs, it is best to craft a customized approach that accounts for numerous relevant factors. Specifically, your defense and available options to consider should be reliant upon your prior criminal history, the drugs and amount in question, the age and presence of youth at the time of the transaction, and the actual facts and circumstances surrounding your case. In such cases, one may argue that the property is not regularly used for school purposes. This may occur when a facility is not used for schooling purposes; for instance, maybe the facility is now used for adult meetings or other events. Either way your defense may require refuting evidence in question, the legality of your encounter with police, a search that they conducted of your residence, your car, or your physical person, how they lab conducted and the authorities maintained the evidence they intend to use against you, and much more. Getting personalized advice and developing a strategy with assistance of a knowledgeable criminal defense lawyer is crucial if you want to ensure that your best possible defense is raised in court.
Juveniles Charged with CDS Distribution on or Near School Grounds
If a juvenile is found to have purchased drugs from an adult or another juvenile or school property, he or she will likely face juvenile delinquency charges. The same is true for distributing, dispensing, or having in one's possession controlled dangerous substances with the intention of selling or giving them out. Juvenile delinquency refers to the occurrence of someone under the age of 18 violating a law within the State of New Jersey. Just like adult offenses, a juvenile can face felony and misdemeanor level violations. Juvenile delinquency matters are handled in the Family Division of the Superior Court and juvenile matters are governed by N.J.S. 2A:4A-20. While the Court's objective for many cases is to reduce recurrence of crimes, prevent repeat offenders and rehabilitate those facing such legal consequences, the same premise applies for juvenile matters. Particularly, the goal for the Courts is to help get the juvenile offender get back on track through rehabilitation. The improvement of the juvenile's life and diverting them from future criminal behavior is the primary focus, often achieved by getting the juvenile help for drug addiction or substance abuse problems, addressing any mental health issues, performing community service, staying on track during a period of probation, and more. In severe cases, the minor adjudicated delinquent will be required to serve time in a juvenile detention facility.
Consult Hackensack NJ Defense Lawyers for CDS Distribution within 1000 of a School
If you have been charged with drug dealing in the vicinity of a school, contact the seasoned Bergen County defense attorneys at our firm for help navigating this process and to develop a powerful defense. Possible resolution is, of course, fact-dependent but may involve downgraded offenses, enrollment in a diversionary program, and even reduced or eliminated jail time with a plea or successful motion to dismiss after we find problems with the prosecution's case against you. We handle drug crimes with all levels of severity and devise the best approach that keeps the facts of your case in mind. Contact our Hackensack office at (201)-330-4979 if you would like to talk to a lawyer about your drug distribution case free of charge. Please feel free to send us a message as well, as we are always available to provide individualized legal counsel.