Bail for Bergen County Domestic Violence Case
Hackensack NJ Domestic Violence Bail Lawyers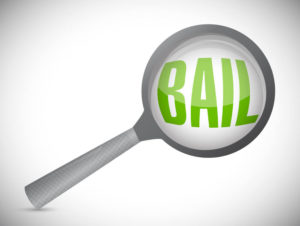 Bail refers to the process through which a judge evaluates what happens when you are accused of certain crimes in New Jersey, for which you may be subject to pre-trial detention. Typically, detention hearings were reserved for the most violent crimes, including charges for robbery and unlawful possession of weapons. Lawmakers in New Jersey, however, recently revised this process such that domestic violence crimes are subject to detention hearings as well, regardless of whether or not the specific offense in a given case is considered a felony (indictable crime) or misdemeanor (disorderly persons offense). Other crimes subject to detention hearings include sex crimes, firearms offenses, any crime for which the accused is subject to a life sentence such as homicide, and any crime of violence falling under the No Early Release Act. In this article, you'll learn more about when and how bail applies in your case if you have been accused of domestic violence in Bergen County or elsewhere in New Jersey. If you would like to speak with a highly experienced criminal and domestic violence defense lawyer regarding an upcoming court appearance for bail in Hackensack, simply call our local office at (201)-330-4979 for a free consultation. You can also request more information by contacting us online and a member of our team will reach out to you right away to answer your questions, explain what happens next, and discuss how we can be of assistance.
Bail Hearings for Domestic Violence in Bergen County, New Jersey
The previous monetary bail system in New Jersey was replaced in the overhauled vein of Criminal Justice Reform. The new method of assessment for bail is based on risk, namely a risk assessment based on specific factors and their relevance to a particular defendant. Under the new system for bail in New Jersey, what is known as a detention hearing is scheduled shortly after the person's arrest. This occurs within no later than 48 hours after an arrest. The judge has three options at that point, including detaining the person until the case is over, the person can be released on their own recognizance, or the judge may order the release of the person subject to particular conditions.
In the past, a person could post their bail amount and get out of jail immediately. And yet, that is no longer an option under the new detention hearing system. For the most part, people who are charged with lower-level offenses are released after being processed at the police station. If the person was arrested for domestic violence, however, this is handled differently. Under the new rules, a detention hearing is required if you are arrested for domestic violence in New Jersey. Even less serious offenses classified as domestic violence like criminal mischief and simple assault fall under the umbrella for this requirement.
How is Bail Decided in a Domestic Violence Case?
After being arrested for allegedly committing an act of domestic violence, your individual case will be examined to determine if you should remain in custody. This stage is known as a Public Safety Assessment and it depends on the specifics of the accusation, your prior history or lack thereof, and the risk you pose to the alleged victim, among other factors.  After the Public Safety Assessment, the judge looks at the specifics of the case to determine whether or not you should be held indefinitely in jail until your court case is decided. Since this represents a significant change from being released on bail, you should take your case seriously if you have been accused of domestic violence in a Bergen County town such as Elmwood Park, Fort Lee, Teaneck, Paramus, Garfield, Mahwah, Rutherford, or Lyndhurst.
You will have to remain in custody until your bail hearing is scheduled and depending on the judge's decision, you could be held beyond that point. If the judge finds that you are a potential threat to the victim, you are more likely to be kept in jail pending the resolution of your case. If you are a possible flight risk, they will consider conditions that address that risk and provide reasonable assurance that you will appear in court when required. The judge also evaluates the case at that point in time to identify whether or not the accused might attempt to obstruct the justice process. Your criminal history, or lack thereof, are also important in the detention decision.
Ultimately, this process means that every person who is arrested for a domestic violence charge, including under the mandatory arrest provision, is subject to these new pre-trial detention requirements. Police officers in New Jersey have to arrest a suspect if they arrive on the scene and it's clear that a victim has sustained an injury, if there is probable cause to believe that a restraining order was violated, or if a weapon appears to have been involved in the situation. Even when not responding to a domestic violence scene, a person must be arrested and held pending a judge's review if charged with a domestic violence offense.
It can be very hard to argue in the bail detention hearing that you're not a threat to the victim in a domestic violence case, as basically the entire case involves you posing a threat in some way or another. You might also assume that this is not a serious issue because you're only accused of a disorderly persons offense like simple assault. Regardless of the degree of the offense, the Superior Court can detain you until the court determines if you should be held while your case is undergoing the adjudication process. Following the bail hearing, the case is sent back to the local Municipal Court in the municipality where the charges were filed, if you have been charged with a disorderly persons offense. On the other hand, charges for an indictable crime of domestic violence, such as terroristic threats, aggravated assault, burglary, or sexual assault, will remain at the Superior Court level in Bergen County and are subject to an indictment by a grand jury of your peers.
Court for a Domestic Violence Offense in Hackensack NJ?
If you are in the process of waiting for a judge for a detention hearing or someone you love has been accused of domestic violence and has an upcoming bail hearing in Hackensack, the time to retain a lawyer is now. You do have the right to an attorney during this period and it is strongly recommended that you retain an experienced criminal defense lawyer immediately after being arrested to develop a plan for successfully defending against these accusations. Our lawyers have been representing clients accused of domestic violence crimes for years and we are here to help you successfully navigate the bail hearing and all court appearances thereafter. Contact us anytime at (201)-330-4979 to discuss your case and your available options free of charge. Whether you have been charged with domestic violence or are facing a restraining order out of Palisades Park, Wyckoff, Ridgewood, Teterboro, Ramsey, Bergenfield, Leonia, or another town in the Bergen County area, we have the answers and aggressive defense representation you want and need now.