Top 3 Most Common Arrests at NJ Stadiums
Have You Been Charged with a Crime at a Stadium in Bergen County, NJ?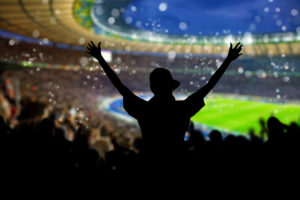 Baseball season is winding up and football season is right around the corner. Whether you are cheering on your favorite sports team or watching a concert, there is always some risk of being on the wrong side of the law when attending an event at a stadium. What may seem like harmless fun, having a little too much to drink, drinking underage, or dealing with another raucous person in the crowd, can end up being dangerous and illegal in some circumstances. Below are the top examples of some of the most common criminal charges that could end up affecting you if you plan to attend a game, concert, or another event at a stadium in New Jersey. If you have already been arrested or charged with an offense, talk to a defense lawyer who can help now by calling (201)-330-4979 or contacting us online. With local offices in Bergen County, we handle a vast array of criminal and DUI charges arising at Metlife Stadium in East Rutherford and other arrests at events throughout New Jersey.
Charged with Disorderly Conduct at Metlife Stadium
Disorderly conduct is not considered a "crime" in the indictable sense, but it is still a criminal offense in New Jersey. Specifically, disorderly conduct is a petty disorderly persons offense, which falls below New Jersey's definition of a crime but comes will a criminal record and may result in additional penalties as well. If you have been charged with disorderly conduct, you could end up being sentenced to up to 30 days in jail and as much as a $500 fine for a conviction.
Disorderly conduct covers a wide variety of actions. It is a "breach of the peace" offense, which means that presumably disruptive behavior is typically associated with this charge. Other potential actions that may trigger a disorderly conduct charge may include things like fighting, being violent in any way, creating a dangerous condition for others, or using offensive language (often loudly).
Public drunkenness is not a crime in New Jersey, but the things that someone may do while intoxicated in public, such as being loud or violent, may lead to a disorderly persons charge for simple assault, resisting arrest, or another offense.
Got a Summons for Underage Drinking in East Rutherford
Like every other state, individuals who are under the age of 21 are not permitted to consume alcohol in New Jersey. However, alcohol and sporting events, concerts, and other events, seem to go hand in hand. Younger people may be able to obtain alcohol at this type of event much more easily than at a bar or liquor store, particularly while "tailgating" in the parking lot before the event.
Although common, underage drinking may result in a fine of at least $500, but fines can be up to $1,000. A person's driver's license can also be suspended, and the underage drinker may also have to serve jail time of up to six months. Obviously, if you are a high school or college student, getting into trouble for drinking and the associated criminal conviction on your record can present a serious problem as you pursue job opportunities.
Although the State of New Jersey does not ban underage drinking under limited circumstances, such as religious ceremonies and alcohol provided by parents to their own children in the home, the law does not permit drinking in parking lots, sports fields, in or around schools, or in any other public places.
Stopped for DUI Leaving East Rutherford Stadium
When people are leaving sporting events and other activities after drinking, they often find themselves charged with DWI. It is always a good idea to have a designated driver or use a driving service such as Uber or Lyft if you have been drinking at a stadium event, as police often park right outside of the stadium in an attempt to find drunk drivers who are on their way home.
Under New Jersey law, if you have a first offense DWI conviction, you may end up spending up to 30 days in jail, paying a $250 to $400 fine plus additional court costs and fees, attending an alcohol education class at the IDRC, and having to pay insurance surcharges for the following three years. Additional fines and fees apply to subsequent DUI offenses, or if the incident occurred in a school zone or school crossing.
Getting Help After New Jersey Stadium Criminal Charges
In many cases, charges following sporting events or other occasions are simply the result of misunderstandings, overzealous officers, or situations that got out of hand. Regardless of your circumstances, our criminal defense lawyers can help you deal with an arrest at or near a stadium and our intention is always to lessen or entirely mitigate the consequences you face. Learn more by giving us a call today at (201)-330-4979. We are constantly appearing in East Rutherford Municipal Court and courts throughout Bergen County to defend our clients' rights.