Driveway Accident in Oakland, NJ Results in Death of Pedestrian
Motorist Issued Ticket for Careless Driving After Allegedly Killing Pedestrian in Oakland, New Jersey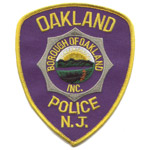 A motorist was recently cited for careless driving for a fatal car accident in Oakland, NJ. The tragic accident happened just before 9:45 a.m. on Thackeray Road in Oakland, New Jersey. According to authorities, the motorist was driving a 2014 Jeep Grand Cherokee and attempting to pull out of a driveway when he hit two people who were walking past the driveway at the time. One of the pedestrians, 38-year-old Oakland resident Nora Kohlash, died due to injuries sustained in the driveway accident.
Lt. Christian Eldridge of the Oakland Police Department in Bergen County, NJ later issued a statement about the fatal accident and said that the Jeep struck Kohlash and the other victim while leaving the driveway. The driver of the Jeep then allegedly pulled forward and back into the driveway before rolling backward and crushing Kohlash underneath the vehicle.
Traffic Offenses & Vehicular Manslaughter Charges in Bergen County, New Jersey
Law enforcement has not identified the other pedestrian walking with Kohlash when the driveway accident occurred, nor have they publicly identified the motorist accused of striking the two victims. (Police did state that Kohlash and the other injured pedestrian were acquaintances and that they were walking together at the time of the accident.) Although the second victim survived their injuries, Kohlash did not: she was pronounced dead at the scene by authorities.
The likelihood that Kohlash died due to her accident-related injuries has not yet prompted law enforcement to criminally charge the driver of the Jeep. Thus far, the driver has only been cited for a traffic violation for careless driving. However, depending on the conclusions reached by Oakland detectives investigating the accident, it is certainly possible that the motorist responsible for the fatal crash could face serious criminal charges for vehicular homicide or assault by auto. Additionally, since these types of charges are classified as felonies, the driver would be exposed to potential prison time.
Cited for a Traffic Violation in Bergen County, NJ? Contact Experienced Traffic Defense Lawyer Travis J. Tormey Today
If you were issued a traffic ticket in Oakland, Paramus, Hackensack, Fort Lee, or anywhere else in Bergen County, New Jersey, you need to talk to a qualified traffic defense lawyer as soon as possible. Travis Tormey is a highly skilled traffic attorney who can help you fight a ticket and avoid points on your driver's license. Contact Attorney Tormey now to discuss your Bergen County traffic charges.