East Rutherford, NJ Men Accused of Raping Unconscious Woman
Three Men Allegedly Sexually Assaulted Woman When She Passed Out at Apartment in East Rutherford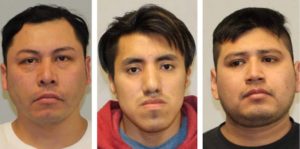 Three men from East Rutherford, New Jersey were recently arrested and charged with raping an unconscious female at a local apartment. The three sex crime suspects are 35-year-old Emeterio Castelan, 29-year-old Rene Jimenez, and 20-year-old Luis Tenecela. The three men reportedly work together at a restaurant in East Rutherford. According to authorities, the men committed the sex crime at a Park Avenue apartment where two of them live.
After allegedly being sexually assaulted, the victim dialed 911 to notify the East Rutherford Police Department. East Rutherford cops contacted the Bergen County Prosecutor's Office Special Victims Unit – and both departments then worked together to investigate the suspects. Detectives determined that enough evidence existed to connect the suspects to the sexual assault: the men allegedly sexually assaulted the victim after she got intoxicated and then passed out. Criminal complaints filed against the suspects indicated that the victim "was physically helpless" when she was assaulted.
Prison & Megan's Law for Aggravated Sexual Assault in Bergen County, New Jersey
Castelan, Jimenez, and Tenecela are charged with multiple crimes: aggravated sexual assault of a person while aided by a co-defendant, aggravated sexual assault of a person who is physically helpless or mentally incapacitated, and aggravated criminal sexual contact of a person who is physically helpless.
Depending on how the Bergen County Prosecutor's Office opts to proceed with the criminal case, the suspects could potentially be indicted by a grand jury and then go to trial in Bergen County Superior Court. In many cases involving serious felonies, however, prosecutors will offer plea deals to defendants in order to secure a conviction. Additionally, when there are multiple defendants in a case, a plea deal may be more likely as the prosecution looks to get at least one co-defendant to testify against the other co-defendants in court.
If the suspects ultimately stand trial and are convicted on the most serious charges of aggravated sexual assault, they would face severe penalties that may include sentences of up to 20 years behind bars in NJ State Prison. Moreover, the suspects would likely be required to register as convicted sex offenders under Megan's Law after completing any prison sentence.
After being arrested and processed at East Rutherford police headquarters, the suspects were taken to the Bergen County Jail in Hackensack, NJ. They were being held without bond at the jail in advance of a hearing to determine whether they will be allowed to go free until the case is resolved.
Free Consultation with the Tormey Law Firm About Your Sex Offense Charges in Bergen County, NJ
Were you charged with sexual assault in East Rutherford, Paramus, Hackensack, or anywhere else in Bergen County, New Jersey? The experienced criminal lawyers at the Tormey Law Firm can assist you. Contact us now to schedule a free consultation about your case.