Man in High Heels Charged with Lewdness in Rutherford, New Jersey
Man Wearing High Heels and No Pants Accused of Trespassing at Rutherford Home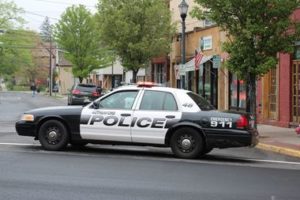 A man wearing high heels allegedly trespassed in a Rutherford home and frightened two people inside the residence. The strange incident happened a short time before 5:00 p.m. at a residence on Eastern Way in Rutherford, NJ. The suspect, 39-year-old Justin Paul Christodoro, reportedly entered the house through a backdoor, walked into the living room, and shouted, "I'm here!" The two occupants of the home, a husband and wife, were in the middle of watching television when this happened. They saw that the suspect was in black high heels, a black t-shirt, and not wearing any other clothing.
Rutherford Police Captain Patrick A. Feliciano later issued a statement about the strange case and said that Christodoro was unable to provide an explanation for his odd behavior. Moreover, said Feliciano, Christodoro doesn't even know the two residents of the Rutherford home. After allegedly going inside the house and yelling at the residents, Christodoro left the premises and fled the scene. Detectives with the Rutherford Police Department went to the home to investigate and subsequently alerted neighboring police departments to look for the suspect. A few hours later, Lyndhurst police officers found Christodoro asleep in his motor vehicle in a residential driveway on Lake Avenue in Lyndhurst, NJ. Christodoro was reportedly still wearing his outfit from earlier in the night: high heels and a t-shirt.
Disorderly Persons Offense Charges in Bergen County, New Jersey
After being arrested, Christodoro was taken by Lyndhurst police to the New Bridge Medical Center in Paramus, NJ so that he could get treatment and be evaluated for drug use. Authorities believe that Christodoro may have been under the influence of narcotics. When Christodoro is eventually released from the medical facility, he will probably be transported to the Bergen County Jail in Hackensack and held there until a bail hearing.
Christodoro faces charges for one crime in Rutherford, NJ and for multiple crimes in Lyndhurst, NJ. According to law enforcement, the charge in Rutherford is for criminal trespassing and the charges in Lyndhurst are for possession of a controlled dangerous substance (CDS) and lewdness. Christodoro was also issued a citation for a traffic violation for blocking a driveway in Lyndhurst. It is also possible that Bergen County prosecutors will decide to file additional criminal charges in the case.
If the case ultimately reaches trial in either Rutherford Municipal Court or Lyndhurst Municipal Court, Christodoro could face severe penalties. Although the charges against Christodoro are classified as disorderly persons offenses, not felonies, a conviction for a disorderly persons offense could still result in a sentence of up to six (6) months in the Bergen County Correctional Center.
Contact Experienced Criminal Defense Attorneys with an Office in Hackensack, NJ
The Tormey Law Firm represents clients who have been charged with felonies and disorderly persons offenses in Rutherford, Teaneck, Mahwah, and everywhere else in Bergen County, NJ. Our experienced criminal defense attorneys understand how the NJ criminal justice system works and can help you fight your charges. Contact us now to go over the details your case on the phone or to schedule a free consultation at our office in Hackensack, New Jersey.