Dumont Man Faces Felony Charges After Drug Raids in Central Jersey
New Jersey Police Arrest Suspects in Alleged Drug Trafficking Operation in Middlesex County, NJ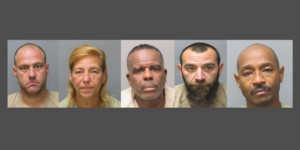 Police recently arrested 20 people, including one person from Bergen County, in connection with a reported drug trafficking network in Central Jersey. The arrests were made at the end of a five-month-long investigation by numerous law enforcement agencies: the NJ State Police, the Bergen County Prosecutor's Office, the Middlesex County Prosecutor's Office, the Somerset County Prosecutor's Office, the U.S. Postal Inspector, and several local police departments in New Jersey. Investigators gathered evidence and identified suspects accused of having roles in a drug distribution operation that allegedly trafficked cocaine, heroin, marijuana, methamphetamine, and prescription drugs such as oxycodone, roxycodone, suboxone, and morphine in Middlesex County and Somerset County, New Jersey.
The official law enforcement operation was dubbed Operation Bird Cage. At the conclusion of the investigation, detectives got search warrants for locations in Bergen County, Middlesex County, and Somerset County, NJ. During the drug busts, police allegedly discovered more than one kilogram of cocaine, more than 2,000 bags of heroin, approximately one pound of marijuana, an unspecified amount of methamphetamine, nearly 300 Oxycodone pills, six Roxycodone pills, 247 Suboxone pills, 48 morphine pills, 15 ecstasy pills, almost 300 unidentified pills, and a hydraulic kilo-press. Authorities indicated that the seized drugs have a street value of around $370,000.
In addition to seizing drugs, police reportedly seized nine cars. If prosecutors can establish that the vehicles were used in furtherance of drug distribution activity, the State may be allowed to keep the property due to the NJ civil forfeiture law. Moreover, the State may be allowed to keep more than $98,000 in cash that was seized by police during the drug raids.
The law enforcement agencies that helped to execute the search warrants in the drug trafficking case include Hillsborough police, South Bound Brook police, Dunellen police, the Bound Brook K-9 unit, the Bergen County SWAT team, the Middlesex County SWAT team, the Somerset County SWAT team, and the US Drug Enforcement Administration's NJ High Intensity Drug Trafficking Areas (HIDTA) Group 3.
Dumont Man Charged with Drug Distribution
One of the suspects arrested by police during the drug busts is from Dumont in Bergen County, NJ. Leon Blue, Jr. is a 52-year-old resident of Dumont. He faces criminal charges for second degree felonies (promoting organized street crime, possession with intent to distribute a controlled dangerous substance (CDS), and conspiracy) and for third degree felonies (possession of a CDS and financial facilitation of criminal activity).
Other suspects arrested by law enforcement were Robert Cardinal from Dunellen in Middlesex County, Georgiann Cardinal from Dunellen, Timothy "TJ" Jenkins from Hillsborough in Somerset County, and Michael "Low Rider Mike" Wayne from South Bound Brook in Somerset County, NJ. Cardinal has been charged with first degree leader of a narcotics trafficking network, while the others were charged with lesser offenses that still carry severe penalties.
Several other people were also arrested by police, including residents of South River, Piscataway, and South Plainfield in Middlesex County, New Jersey; Elizabeth and Rahway in Union County, New Jersey; and Union Beach in Monmouth County, New Jersey.
Central Jersey Drug Distribution Operation Also Allegedly Trafficked Weapons
The NJ drug distribution operation was also allegedly distributing firearms in Middlesex County and Somerset County. During the raids, police allegedly found 19 weapons, including handguns, rifles, shotguns, and assault firearms.
As a result of the illegal weapons, multiple people arrested by police have been charged with both drug crimes and criminal weapons offenses. For example, Robert Cardinal faces charges for the unlawful transfer or sale of an assault firearm. If Cardinal is ultimately convicted on the third degree gun charges, he could be sentenced to 3-5 years in NJ State Prison. Michael Wayne would face even more severe penalties if convicted because he was charged with second degree unlawful possession of an assault firearm.
Free Consultation with Bergen County Drug Distribution Lawyer
The Tormey Law Firm represents clients charged with drug crimes and weapons offenses in Bergen County, New Jersey. If you were arrested and charged with cocaine distribution, heroin possession, prescription drug offenses, or any other drug crime in NJ, we can help you. Contact us now to schedule a free consultation.