Fort Lee Police Respond to 911 Call, Shoot Suspect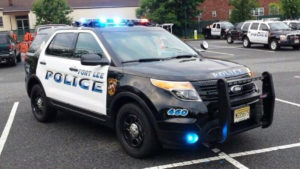 Cops in Fort Lee, New Jersey shot a man accused of hiding outside a woman's home and causing her to fear for her life.
According to Bergen County law enforcement officials, the woman was inside her house when she noticed the suspect outside and lurking in the bushes. The victim then called Fort Lee police, which sent police officers to the scene to investigate.
When officers arrived at the home, located on Summit Avenue, they reportedly saw the suspect. A shootout ensued, with the Fort Lee police officers using their guns to shoot the suspect.
Afterwards, the suspect was transported via ambulance to Hackensack University Medical Center for medical treatment.
It has not been made clear whether the suspect threatened police or tried to violently assault them before the officers used their police-issued firearms.
The Bergen County Prosecutor's Office and the Bergen County Sheriff's Office will be looking into the shooting to determine if the police officers who fired their weapons were justified in doing so.
For additional information about this case, access the NJ.com article, "Authorities Probing Police-Involved Shooting in Fort Lee."