Elmwood Park NJ Man Accused of Tossing Gun While Being Chased by Police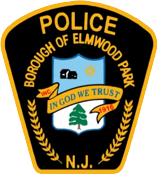 Paterson New Jersey police recently arrested an Elmwood Park NJ man accused of tossing a handgun while being chased by the cops.
The suspect, a 20-year-old Elmwood Park resident, was allegedly observed by two Paterson patrol cops as he committed a moving violation: he reportedly failed to use his turn signal when he turned onto East 19th Street while operating a 2007 Honda Accord.
Paterson NJ police stopped the suspect's car and were about to approach the vehicle when the suspect reportedly exited through the driver's side door and tried to flee the scene on foot.
The Paterson chased after the suspect and reportedly noticed that he was in possession of a semi-automatic handgun.
The suspect eventually found himself cornered in a driveway and reportedly tried to get rid of the gun, a black Springfield Armory USA XD-9 9mm handgun, by throwing it into the air. However, the firearm hit a fence and bounced back right in front of the police officers.
Police subsequently seized the weapon and placed the suspect under arrest.
A search of the suspect allegedly turned up 490 glassine envelopes filled with heroin.
Elmwood Park Man Charged with Gun, Heroin Possession
The suspect has been charged with a drug crime for possession with intent to distribute heroin and a criminal weapons offense for unlawful possession of a weapon.
To learn more about this case, read the NJ.com article, "Tossed Gun Lands in Front of Cops Chasing Man, 20, Police Say."