Police Arrest Two Brothers for Cliffside Park Burglaries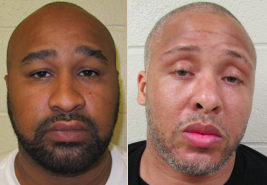 Cliffside Park law enforcement arrested two brothers accused of burglarizing at least two homes in Cliffside Park, NJ.
According to Bergen County prosecutors, a 32-year-old Englewood man and a 37-year-old Hackensack man committed the burglaries two months apart. The suspects are said to be brothers.
The first burglary incident occurred in April at a house located in Cliffside Park, while the second burglary incident occurred in June at a different home in Cliffside Park, NJ.
Police caught a lucky break when Cliffside Park patrol officers reportedly noticed the suspects driving a car and circling the same neighborhood. When a burglary was reported on Washington Avenue, police officers pulled over the suspects' vehicle and questioned the men.
The suspects were eventually arrested and charged with multiple counts of burglary and theft of movable property.
After being placed under arrest and processed, the suspects were remanded to the Bergen County Jail in Hackensack, NJ.
Burglary Charges Cliffside Park – Need a Lawyer
To learn more about this case, view the NJ.com article, "2 Brothers Charged After Allegedly Burglarizing Homes."