Paramus Police Reportedly Find Heroin During Traffic Stop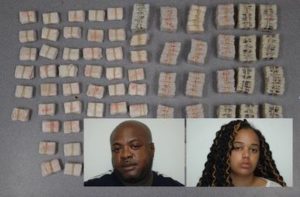 Paramus New Jersey police recently arrested two individuals accused of possessing a large amount of heroin in their car.
The suspects are a 20-year-old woman from Albany New York and a 45-year-old man from Jersey City, NJ. According to law enforcement, the two suspects were in a car and traveling northbound on Route 17 in Paramus, New Jersey.
A couple of Paramus cops reportedly spotted the suspects' motor vehicle speeding on the road. Police then pulled over the vehicle and talked to the driver.
Paramus NJ cops eventually searched the suspects' vehicle and reportedly found more than 1,800 bags of heroin with a street value of approximately $15,000.
Police arrested the vehicle occupants and charged both of them with possession of heroin with intent to distribute. If the suspects are eventually convicted on the very serious drug crime charges, they could face severe penalties that include prison time.
After being placed under arrest and charged, the suspects were taken to the Bergen County Jail in Hackensack, NJ.
Traffic Stop, Heroin Found in Vehicle Paramus NJ
For more information about this case, view the NJ.com article, "Cops Pull Over Speeding Car, Find Pound of Heroin."