Mahwah NJ Police Arrest Men Suspected of Prostitution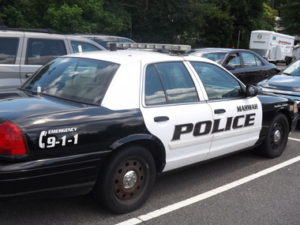 Mahwah New Jersey police arrested a couple of NY men accused of engaging in prostitution at a hotel.
Two Mahwah NJ detectives reportedly noticed a man standing in the lobby of the hotel and acting suspiciously. When the Mahwah NJ detectives moved toward the suspect, they reportedly smelled marijuana on his clothing. According to law enforcement, the suspect, a 24-year-old New York man, told the cops that he had smoked marijuana.
Mahwah NJ police ran a background check on the suspect and discovered that he was wanted for a parole violation out of NY. Mahwah cops then arrested the suspect.
Police also arrested a 21-year-old Brooklyn NY man after reportedly seeing drug paraphernalia in his purse.
Mahwah police investigated and reportedly learned that the two suspects, along with a third person, were staying at the hotel and engaging in prostitution.
The suspects have been charged with a number of crimes, including prostitution, simple possession of marijuana, cocaine possession, and possession of drug paraphernalia.
Prostitution Charges Mahwah NJ – Need a Lawyer
For more information about this case, see the Paramus Patch article, "Male Hookers Arrested at Bergen Hotel: Police."
Prostitution is typically a disorderly persons (misdemeanor) crime in New Jersey punishable by a $1,000 fine, up to 6 months in the county jail, and a permanent criminal charge on your record if convicted. Contact our Bergen county criminal defense lawyers now for immediate assistance and a free initial consultation.