Little Ferry NJ Family Accused of Illegally Distributing Oxycodone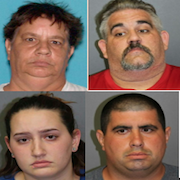 Four members of a Little Ferry NJ family were recently placed under arrest and charged with prescription drug distribution offenses.
The suspects are a 56-year-old woman from Little Ferry NJ and her three kids. The kids are all adults and also live in Little Ferry, New Jersey.
According to Bergen County NJ law enforcement officials, the suspects distributed Oxycodone in Bergen County.
Detectives with the Little Ferry Police Department and the Bergen County Prosecutor's Office launched an investigation into the suspects after learning about illegal drug sales in Little Ferry, NJ. Investigators reportedly uncovered evidence that the mom obtained Oxycodone pills through a legal prescription and then had her children unlawfully sell the prescription drugs.
Little Ferry cops ultimately arrested the three children while they were allegedly attempting to sell 55 Oxycodone pills just outside their house in Little Ferry. Police arrested the mother a short time later.
After being placed under arrest and charged, the suspects secured their release from police custody with a pending court date.
Distribution of Oxycodone Little Ferry NJ – Need an Attorney
To learn more about this case, view the NJ.com article, "This Whole Family Just Got Popped for Peddling Pills, Police Say."
Distribution of prescription drugs like Oxycodone is a serious felony charge in New Jersey. This case in Little Ferry will be prosecuted in the Bergen County Superior Court. Our lawyers have handled a number of drug distribution cases in Bergen County over the years with great success. Contact us anytime for a free initial consultation.