Oradell NJ Man Allegedly Threatened to Shoot Ex-Girlfriend in Paterson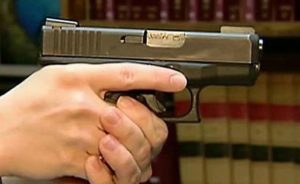 An Oradell New Jersey man who previously worked as a U.S. Customs and Border Protection agent faces very serious criminal charges for aggravated assault and weapons offenses.
The suspect was employed by the government as a border agent until 2012. That's when the federal government made the decision to fire him.
Earlier this year, the 34-year-old Oradell New Jersey resident was arrested in connection with a domestic violence incident. According to prosecutors, the suspect brought a Glock-17 handgun to his ex-girlfriend's residence in Paterson New Jersey, aimed the weapon at her head, and threatened to shoot her.
Paterson NJ cops later arrived at the scene and placed the suspect under arrest. He was subsequently charged with numerous crimes, including aggravated assault, unlawful possession of a weapon, and possession of a weapon for an unlawful purpose.
The suspect would be subject to severe penalties if convicted of the felony-level offenses. He may get his chance to beat the charges in court later this year.
While the suspect awaits resolution of the assault case, he is being held at the Passaic County Jail in Paterson, New Jersey.
For additional information about this case, see the NJ.com article, "Former Customs Agent Pleads Not Guilty in Death Threat."