Bergenfield NJ Men Arrested, Allegedly Assaulted Police Officer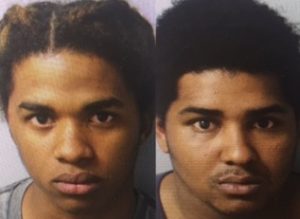 Police recently arrested two brothers who allegedly assaulted a Bergenfield police officer.
The suspects are brothers from Bergenfield NJ: a 20-year-old man and a 21-year-old man. According to officials, the suspects assaulted the Bergenfield cop after the officer approached their vehicle late at night.
The violent altercation occurred just after 12:30 a.m. on Howard Drive in Bergenfield, NJ. The patrol officer reportedly saw that the suspects' motor vehicle was double-parked on the side of the road, so he moved closer to perform a vehicle check. That's when the driver of the car, the 21-year-old suspect, allegedly attacked the officer.
After the suspect and the victim fell to the ground, the other suspect reportedly stepped out of the vehicle and joined the attack.
The Teaneck Police Department, the Englewood Police Department, and the Tenafly Police Department sent police officers to the scene to provide assistance. The officers quickly captured the two assault suspects.
The suspects now face criminal charges for aggravated assault on a police officer and resisting arrest. One of the suspects also faces charges for hindering apprehension.
Moments before the violent assault on the Bergenfield cop, an unspecified number of men reportedly jumped out of the suspects' car and fled the area on foot.
The Bergenfield police officer received medical treatment and Holy Name Medical Center in Teaneck and was later discharged from the medical facility.
The two Bergenfield brothers accused of assaulting the officer were remanded to the Bergen County Jail in Hackensack. However, one suspect was soon released on his own recognizance.
The suspect's release has led at least a few officials to publicly disparage the new bail reform system in NJ. The system is supposed to allow non-violent offenders to remain free on their own recognizance until trial, but it appears that the defendant accused of a violent assault in this case was set free under the new bail guidelines.
To learn more about this case, view the NJ.com article, "Man Attacked Cop, Released the Same Day, Authorities Say."