Cliffside Park Man Sentenced for Murder of 88-Year-Old WWII Vet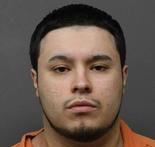 Following his conviction for beating an 88-year-old World War II Army veteran to death with a cooking pot, Edwin Estrada, 22, was sentenced to 60 years in New Jersey State Prison on Friday.
Superior Court Judge Edward A. Jerejian imposed his sentence following a lengthy jury trial. After the nearly month-long trial, the jury took less than two hours to return its guilty verdicts on all charges of murder, felony murder, burglary, robbery, and credit card theft.
According to testimony given at trial, Estrada went to the victim's apartment on July 15, 2010 with the intent of burglarizing the apartment. Once inside, however, Estrada repeatedly struck the victim on the head with a pot, causing injuries that resulted in the victim's death nine days later.
The defense asserted that Estrada was mentally ill and on drugs at the time of the incident, causing hallucinations and compelling him to attack the victim. Ultimately, the jury did not believe the defense and convicted Estrada on all counts.
Originally facing a term of 30 years to life, Estrada was given a term of 60 years in New Jersey State Prison on Friday. During sentencing, the Judge said that Estrada "brutally, viciously and senselessly" beat the victim in the head during the burglary, asserting that the defendant's claim that the killing was unintentional had been rejected by the jury.
Individuals charged with these or similar crimes face serious penalties and must be represented by the best possible team in order to ensure that their rights and liberties are preserved. The Tormey Law Firm is a highly experienced trial team who can fight for you to make sure you have the best possible outcome. Our aggressive team has extensive experience defending our clients against criminal charges throughout New Jersey. If you are facing a difficult legal situation, hire a top team to lead your defense.
We are available 24 hours a day to speak with you about your case. Call us at (201)-330-4979.
For more information about this case, access the following articles: Cliffside Park Man Convicted in Fatal Beating of WWII Vet;   NJ Man Senteced in Cooking Pot Killing of 88-year-old World War II Army Veteran, Report Says