Mahwah Resident Charged in Collision With Bicyclist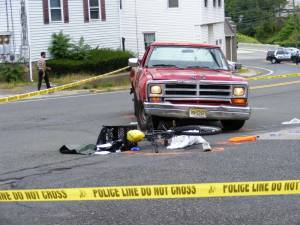 Thomas Rinaldi, 64, was driving his pickup truck on September 9 when he allegedly made a sharp turn across oncoming traffic and caused a Suffern man to fall off his bicycle and strike his head. The collision occurred at approximately 4:37 p.m. at the intersection of Ramapo Valley Road and North Railroad Avenue in Mahwah. The 62-year-old victim was transported to St. Joseph's Regional Medical Center in Paterson where he was listed in critical condition.
After conducting field sobriety tests on the driver, police placed Mr. Rinaldi under arrest for driving while intoxicated and assault by automobile. Additionally, police obtained a blood sample from Mr. Rinaldi in order to run a toxicology report. Mr. Rinaldi was released on $25,000 bail with a 10% option.
If convicted of DWI, Mr. Rinaldi could face penalties such as a loss of driving privileges from 3 months to 10 years, depending on whether he has any prior convictions for DWI. Additionally, the Court can impose fines and mandatory surcharges totaling more than $1,300 as well as a possible term of up to 180 days in the Bergen County Jail. Finally, a conviction may subject Mr. Rinaldi to the required installation of an ignition interlock in his vehicle upon reinstatement of his license for a period of up to 3 years.
If the alleged offense occurred within 1,000 feet of a school zone, penalties are much more harsh, including fines of up to $2,000, a period of incarceration of up to 180 days in the Bergen County Jail, a suspension of driving privileges of up to 20 years, and a mandatory ignition interlock.
Assault by auto is a third-degree crime, carrying possible penalties of up 3-5 years in New Jersey State Prison and fines of up to $15,000. If the alleged crime took place within 1,000 feet of a school, it becomes a second-degree crime, punishable by 5-10 years in New Jersey State Prison and up to $150,000 in fines.
If you or anyone you know has been charged with these or similar offenses, the consequences can be serious, resulting in substantial prison terms and financial penalties. Don't delay in hiring legal representation to protect your freedom and your rights.
For additional information, see the following article:Mahwah man arrested after truck hits bicyclist