Woman Facing First-Degree Robbery Charges Receives Plea Offer from Bergen County Prosecutors
By Travis Tormey posted in Theft Offenses on Wednesday, April 9, 2014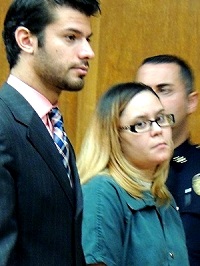 A woman from Garfield, New Jersey who is facing charges for first-degree armed robbery as well as conspiracy to commit armed robbery, was recently offered a plea agreement from the Bergen County Prosecutor's Office that would subject her to a sentence of 7 years to be served in New Jersey State Prison.
According to Assistant Bergen County Prosecutor Nicole Eiszner, 23-year-old Garfield resident Ashley I. Lozano is responsible for orchestrating and participating in the robbery of a friend of hers at a residence in East Rutherford last October. Lozano allegedly committed the robbery with 22-year-old Paterson resident Addis Aka to obtain money for drugs. A third man who officials believe also participated has yet to be identified.
Both Lozano and Aka were previously arrested on heroin-related charges. Lozano was charged with heroin possession and there was an active warrant for her arrest issued by the Newark Police Department. Aka, on the other hand, faced prior charges for heroin distribution as well as weapons offenses.
Each of the two defendants has been charged with first-degree robbery, stemming from the fact that they allegedly threatened the victim with a gun during the crime. Under N.J.S.A. 2C:15-1, which governs robbery offenses, if the actor "is armed with, uses, or threatens the immediate use of a deadly weapon," this is classified as a crime of the first degree. First degree offenses are punishable by a term of imprisonment ranging from 10 to 20 years, according to the New Jersey Criminal Code.
If Lozano ultimately accepts to prosecution's offer in exchange for a guilty plea, she would be required to serve approximately 6 years in prison before becoming eligible for parole, as robbery is one of the crimes enumerated under the No Early Release Act (NERA). With this in mind, the prosecution's offer of 7 years is a reasonably reduced sentence and would allow Lozano to avoid taking her case to trial and risking a conviction.
On Monday, April 7th, Lozano entered a plea of "not guilty" in Bergen County Superior Court. She will need to coordinate with her defense attorney in order to determine whether or not she will proceed to trial or accept the plea agreement in exchange for a reduced sentence. She is currently being held at the Bergen County Jail, with her bail set at $20,000, pending her next court appearance, which is scheduled for May 15th.
For more information pertaining to this case, access the following article: Garfield woman offered deal in East Rutherford drug money robbery