Man Charged with Fairview Murder Now Facing Additional Attempted Murder Charges
By Travis Tormey posted in Assault and Threat Crimes on Friday, April 4, 2014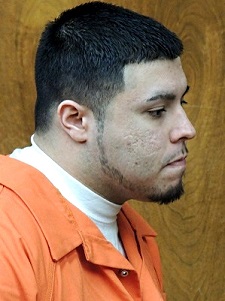 A man from Cliffside Park, New Jersey who was charged with murder and robbery offenses in connection with a July 2010 incident, is now facing additional charges for attempted murder after allegedly commissioning a third-party to kill the co-defendant in his case, who was planning to testify against him.
According to John L. Molinelli, the Bergen County Prosecutor, 22-year-old Cliffside Park resident Edwin Estrada was originally accused of murdering 88-year-old World War II veteran Vincent Leuzzi, during the course of committing a robbery at Leuzzi's Fairview residence. He was initially charged with armed robbery and attempted murder, as Leuzzi survived the attack for a short time. However, the charges were later upgraded to murder when Leuzzi died 9 days later as a result of his injuries.
Officials identified Estrada as responsible for the July incident after he made purchases with Leuzzi's credit card following the robbery, one of which was documented via surveillance video at a business in Washington Heights. In a later development in the investigation, Leuzzi's grandson Andrew Abella was identified as Estrada's accomplice.
Before the trial, Estrada's defense attorney had reached a plea agreement with prosecutors which would require him to serve 27 years in New Jersey State Prison in exchange for a guilty plea to aggravated manslaughter. However, Bergen Superior Court Judge Liliana DeAvila-Silebi rejected the agreement, which would have dismissed the 10 other counts that Estrada was facing.
The victim's family had requested that Estrada be sentenced to death; however, the death penalty was eliminated in New Jersey in 2007 by acting Governor Jon Corzine. Although Judge DeAvila-Silebi did not completely side with the family, she did say that they deserved a more severe sentence for their lost loved-one. She also stated that Estrada should be convicted of felony murder, at which time the defense asked her to recuse herself. The judge subsequently denied this motion without a hearing.
As the case proceeded, Abella agreed to testify on behalf of the prosecution and Estrada allegedly tried to have Abella killed, as Estrada is currently being held at the Bergen County Jail pending his trial. Authorities were reportedly made aware of the plot by another prisoner and Estrada is now facing charges for attempted murder as a result. In addition, his bail has been increased to $2 million.
He is now scheduled to appear in court regarding the attempted murder charges on Monday, April 7th.
For more information pertaining to this case, access the following article: Cliffside Park man awaiting trial in murder of WWII vet charged with plotting to kill co-defendant