Bergen County Prosecutors Charge 6 with Theft by Deception Conspiracy
By Travis Tormey posted in Theft Offenses on Monday, April 7, 2014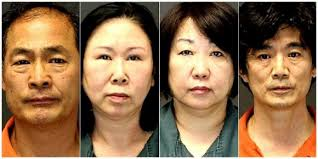 The Bergen County Prosecutor's Office recently announced the arrests of four individuals who are now facing charges for theft by deception. Authorities have also issued warrants for the arrests of two additional suspects in this case.
According to Bergen County Prosecutor John L. Molinelli, 55-year-old Ki Sung Chung, 53-year-old Soon Hwa Park-Bergman, 56-year-old Hyang Son Yi, and 51-year-old Ki Jung Yun, are each facing theft by deception charges in connection with a real estate investment firm through which they allegedly stole $560,000 from clients.
Norwood residents Chung and Park-Bergman, who are the married co-owners of Newstar Realty & Investment located in Palisades Park, New Jersey, are accused of working with fellow married couple Son Yi and Jung Yun to defraud the firm's clients out of a total of approximately $560,000 between 2008 and 2009. All four have been indicted as a result.
In addition, 73-year-old Dennis Oak and his wife, 63-year-old Beverly Oak, of Palisades Park, are wanted on theft by deception charges for allegedly participating in the aforementioned crimes. However, they have not yet been taken into custody.
If the aforementioned defendants are ultimately convicted of these charges, they could be sentenced to serve significant prison terms. Under N.J.S.A. 2C:20-4, which governs theft by deception charges in New Jersey, offenses involving the acquisition of $75,000 or more are classified as crimes of the second degree, which are punishable by a term of incarceration ranging from 5 to 10 years in New Jersey State Prison.
It remains to be seen whether or not any of the defendants will receive and subsequently accept plea offers from Bergen County prosecutors in exchange for their testimony against the others charged in this case.
For more information pertaining to this case, access the following article: Six charged in $560,000 real estate scam run from Palisades Park, prosecutor says