Bergen County Man Facing Drugs and Guns Charges After Teaneck Police Search
By Travis Tormey posted in Drug Charges on Wednesday, April 23, 2014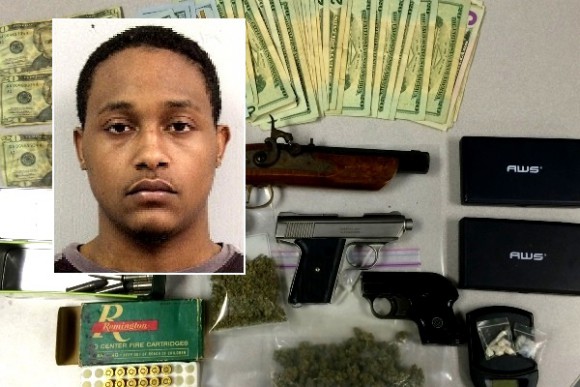 A Bergen County man is facing charges involving drugs, weapons, and money laundering, following a recent search conducted by detectives from the Teaneck police department.
According to Robert A. Carney, the chief of police at the Teaneck Police Department, 20-year-old Clarence Javon Childress was under investigation as an alleged drug distributor, which compelled police to obtain a warrant to search his residence. Detectives executed the warrant for said search on Friday, April 18th.
Per reports, police discovered drugs, multiple guns, ammunition, and counterfeit currency in Carney's home. More specifically, officers seized marijuana, crack cocaine, Oxycodone, a .380 caliber handgun, a muzzle-loading .45 caliber handgun, ammunition, a speed loader for a handgun, numerous digital scales, as well as counterfeit cash. They also found $833 in real currency, which investigators have alleged represents the profits from drug distribution dealings.
As a result, Carney was arrested and charged with drug and weapons-related offenses, in addition to money laundering. He is currently being held at the Bergen County Jail, with his bail set at $150,000.
It is likely that Carney has been charged with possession and distribution crimes involving marijuana, cocaine, and Oxycodone, as well as possession of drug paraphernalia. In addition, he is likely facing multiple charges for unlawful possession of a weapon. Further, under the New Jersey Criminal Code, there are additional penalties associated with offenses involving both drugs and guns, to which Carney is also likely to be subject.
New Jersey's Drugs and Guns Law is codified under N.J.S.A. 2C:39-4.1, which pertains to offenses involving weapons and controlled dangerous substances. According to this statute, an individual who is in possession of any firearm while in the course of committing, attempting to commit, or conspiring to commit any of the specified violations (which include offenses such as possession of marijuana with intent to distribute), is guilty of a crime of the second degree. As such, a conviction for a violation of the Drugs and Guns Law may result in a term of incarceration ranging from 5 to 10 years for the defendant.
For more information regarding this case, access the following article: Teaneck police find guns, drugs, counterfeit cash in raid