Bergen County Grand Jury Returns Indictment Against Four Defendants, One Blind, after Teaneck Robbery
By Travis Tormey posted in Theft Offenses on Sunday, April 13, 2014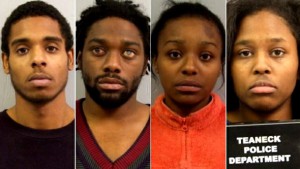 A Bergen County grand jury recently indicted four individuals, including one blind man, in connection with an armed robbery that occurred in Teaneck, New Jersey. The foursome are now facing charges including first-degree robbery, hindering apprehension or prosecution, and multiple weapons offenses.
According to authorities, 25-year-old Michael Harper, 22-year-old Andre Ziemoore, 22-year-old Ayesha Mitchell, and 20-year-old Jamila Eason, have all been charged in connection with an armed robbery that occurred at the intersection of Linden and Elm Avenues on December 17,2013.
The group allegedly used a Lorcin LT-25 .25-caliber handgun, threatening to shoot the two victims, before stealing their money as well as their cell phones.
Following their arrests, Mitchell remained at the Bergen County Jail with her bail set at $100,000. She was released after posting the amount on February 11th. Eason was also released that day after posting bail in the amount of $75,000. Ziemoore and Harper, on the other hand, are currently being held at the county jail, with their bails set at $175,000 and $150,000, respectively.
On Thursday, April 10th, the grand jury issued the indictment, which includes first-degree robbery charges against all four of the defendants. In addition, Mitchell is facing charges for hindering apprehension or prosecution, while Ziemoore has been charged with a certain persons not to have weapons offense because he was previously convicted of a felony. There are also a number of other second-degree weapons charges included in the indictment.
These four defendants are charged with extremely serious crimes, the most egregious of which is first-degree robbery, which is punishable by a term of incarceration ranging from 10 to 20 years in New Jersey State Prison. In addition, the second degree weapons charges could entail penalties including a prison sentence of 5 to 10 years, according to New Jersey law.
For more information pertaining to this case, access the following article: Blind man, three others charged in Teaneck 'enticement' street robbery