One Man Likely Commits Five Bergen County Armed Robberies in One Weekend
By Travis Tormey posted in Theft Offenses on Monday, March 17, 2014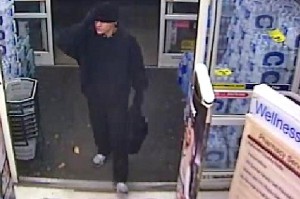 Following five separate armed robberies that occurred over the course of two days in Bergen County, officials from various law enforcement agencies are conducting a coordinated investigation and have come to the tentative conclusion that each of these crimes was committed by the same man.
According to Detective Sergeant Michael Colaneri Jr. of the Hasbrouck Heights Police Department, the first robbery occurred at approximately 8:20 p.m. on Saturday, March 15th at a at a Rite Aid pharmacy in Hasbrouck Heights. The offender was reportedly of Hispanic descent, 6-feet-tall, 160 pounds, and speaking with a Spanish accent. He was described as wearing all black, with grey and blue sneakers.
Per reports, the suspect entered the store unmasked but later wore a ski mask while demanding the money in the cash register and threatening an employee with a black handgun. After filling a black backpack with the proceeds, he fled the scene in a dark four-door vehicle. Shortly thereafter, the same man is believed to have committed another robbery at a Sunoco gas station in Elmwood Park.
Then, on Sunday, March 16th, officials believe the same suspect committed another robbery, the first of three that day, at a CVS pharmacy located in Garfield. He threatened to shoot the cashier when demanding the money in the register. He was described as carrying a backpack, dressed totally in black, and was identified as Hispanic, during the commission of this crime as well.
As the day wore on, two more robberies occurred, both of which have been connected to the aforementioned suspect and the Bergen county crimes. According to officials, the second robbery was committed at approximately 8:30 p.m. at a pizza restaurant in Lodi, with the offender bearing a similar description to the one mentioned above. However, during this robbery the man was reportedly accompanied by two women.
The last robbery took place shortly before 9:00 p.m., approximately one mile from the site of the second incident, at a Mini Mart in the 300 block of Hasbrouck Heights. Again, witnesses identified a man who donned a mask, wore gray sneakers, and travelled with a backpack.
This ongoing investigation will involve the coordinated efforts of law enforcement officials in each of the towns in which these robberies occurred. If and when a suspect is identified in connection with these crimes, he will likely be charged with multiple counts of armed robbery and could be subject to additional weapons charges as well.
For more information pertaining to this case, access the following article: Bergen bandit blamed for five weekend business robberies
Tags: Bergen County NJ Armed Robbery Defense Lawyer, Elmwood Park Weapons Possession Charges, Lodi NJ Robbery Attorney