Bergen County Men Facing Aggravated Assault Charges After Incident in Palisades Park
By Travis Tormey posted in Assault and Threat Crimes on Friday, March 28, 2014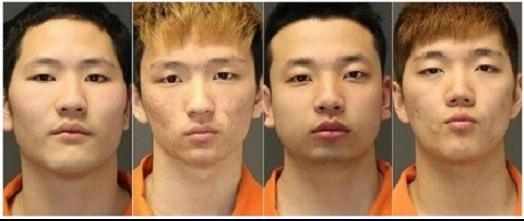 Five men from Bergen County are currently facing aggravated assault charges, among others, after allegedly attacking an older man and his nephew in Palisades Park recently.
According to Benjamin Ramos, the Chief of the Palisades Park Police Department, the men charged include: 22-year-old Maywood resident David Ha, 20-year-old John Yi and 18-year-old Young Chung, both of whom are from Palisades Park, as well as 18-year-old Hyssop Woo and 19-year-old Ju Yan Woo, brothers from Ridgefield.
The group is accused of assaulting a 59-year-old man and his nephew outside of King Sauna Spa, located on Commercial Avenue in Palisades Park, on Sunday March 23rd. The attack allegedly resulted from a disagreement over parking, as the younger victim currently works as a valet at the spa.
After the alleged assault occurred, the group is said to have fled the scene in a Jeep Cherokee, leaving the older victim with a broken nose as well as a concussion. An eyewitness obtained a photo of the Jeep's license plate before it left the area, assisting Palisades Park Police in identifying David Ha, the owner of the vehicle.
When officers questioned Ha, he provided them with the names of the aforementioned defendants, who were subsequently arrested. The men have been charged with aggravated assault, among other offenses, and bail has been set at $25,000 each.
Ha was released from the Bergen County Jail on Thursday, March 27th, after posting bail. Yi was arrested on Tuesday, March 25th, posted bail, and was released the same day. The Woo brothers and Chung also posted bail on March 26th and were released. According to Chief Ramos, these men have a pattern of engaging in assault incidents and quickly posting the bail associated with their charges.
Aggravated assault crimes can be classified in varying degrees depending upon the circumstances of the specific case, such as: the nature of the force used, the nature of the injuries to the victim, the involvement of a weapon, and the victim's job description (for example, if they serve as a law enforcement officer, a nurse, a fireman, etc.). As such, they can be considered second, third, or fourth degree crimes according to N.J.S.A. 2C:12-1(b), the statute that governs these offenses.
Clearly, the degree of the charges against the aforementioned defendants will significantly impact the penalties to which they are subject if each man is ultimately convicted.
For more information regarding this case, access the following article: Police: Palisades Park 'clique' of five beat man, 59, nephew over parking