2 Arrested After K9 Unit Finds Alleged Robber, Bergen County Officials Unravel False Claim
By Travis Tormey posted in Fraud charges on Thursday, March 20, 2014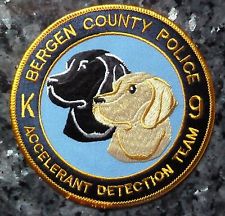 Two men are currently facing charges including simple assault, filing a false report with law enforcement authorities, and hindering apprehension or prosecution, after one of the men notified police of a robbery crime that never actually occurred.
According to Brian Higgins, the Chief of Police of the Bergen County Police Department, 22-year-old Teaneck resident Ishmel Wallace originally notified the Little Ferry Police Department that someone was attempting to rob him on Wednesday, March 19th at approximately 8:30 a.m.
When police arrived on the scene, at the intersection of Huyler Street and James Hansen Way in Teterboro, Wallace, who was the supposed victim, was injured. The Little Ferry officers subsequently enlisted to help of the Bergen County Police Department in investigating the case.
Per reports, Wallace provided authorities with a description of the alleged suspect as well as the likely trajectory of his travel. Shortly thereafter, Bergen County officers, with the assistance of the K9 Unit, discovered 25-year-old Hackensack resident Teddy Wilson.
Following an investigation, officials determined that these two men had, in fact, engaged in an altercation earlier that day regarding a debt that Wilson supposedly owed to Wallace. They also discovered that the two men had lived and worked together prior to the incident, at which time both of the accused were taken into custody.
Wallace is now facing charges for simple assault as well as filing a false report with law enforcement authorities, in addition to the distribution of marijuana charges for which he had been recently released on $25,000 bail. According to police records, he was arrested in Hackensack in February and this case is pending. He is now being held at the Bergen County Jail, with his bail set at $5,000.
On the other hand, Wilson was charged with hindering apprehension or prosecution and was released on his own recognizance.
The distribution of marijuana charges against Wallace aside, of the new offenses for which he has been charges, filing a false reports with law enforcement authorities is considered the more serious of the two crimes. Per N.J.S.A. 2C:28-4, which governs these types of offenses, falsely incriminating another is considered a crime of the fourth degree, which subjects those convicted of these charges to a maximum sentence of 18 months in New Jersey State Prison.
For more information regarding this case, access the following article: Bergen County PD arrests accused pot dealer in bogus robbery claim