Update: Bergen County Superior Court Judge Rejects Dismissal of Charges Against Lodi Fire Marshal
By Travis Tormey posted in Assault and Threat Crimes on Tuesday, February 11, 2014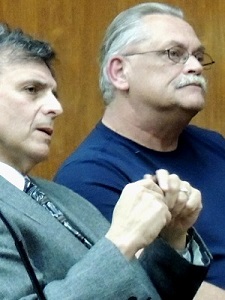 In a follow-up to an ongoing case in Bergen County Superior Court in which a Lodi man is facing charges for elder abuse and aggravated assault, Superior Court Judge Edward A. Jerejian rejected the defense's request to dismiss the charges on Monday, February 10th.
58-year old Paul Wanco, a Lodi Fire Marshal, was indicted by a grand jury in Hackensack after Lodi paramedics found his 89-year-old mother on the floor of their shared residence in deplorable condition.
According to authorities, the victim was surrounded by urine and feces, having been left lying on floor for 15 hours after a fall. The elderly woman was subsequently treated for bruises, a fungal rash, a urinary tract infection, dehydration, and four broken ribs.
Wanco's 18-year-old neice, Jennifer, was also initially charged in connection with the incident, but she received permission to enter a Pre-Trial Intervention Program (PTI) with the support of the Bergen County Prosecutor's Office. PTI is a period of probation during which the charges filed against a defendant are suspended. Pending the successful completion of probation and the conditions of PTI, the charges are dismissed and the defendant is left with no criminal record.
Conversely, Paul Wanco was denied PTI, following objections by Assistant Bergen County Prosecutor Jessica Gomperts. Under New Jersey Law, a defendant cannot enter a Pre-Trial Intervention Program without the consent of the prosecutor involved in the case. As such, Wanco had the following options: request that the charges be dismissed, accept a plea agreement, or take his case to trial.
Wanco and his defense attorney subsequently requested that the charges against him be dismissed, arguing that Wanco was not his mother's caregiver and thus, should not be held responsible, regardless of the fact that his niece had called to inform him of his mother's fall and had requested his assistance. Gomperts adamantly refuted this claim, citing the fact that both Paul and his mother acknowledged his role as her caregiver to Adult Protective Services. Further, Paul Wanco had power of attorney for his mother, control of her finances, and was the caretaker of her house.
Judge Jerejian ultimately agreed with the grand jury and the prosecution, denying the defense's request for a dismissal of the charges and leaving Wanco with two options: accept a plea agreement or go to trial. In addition, the judge set a limit on the time that the defense has to negotiate a plea bargain with the prosecutor's office, saying that he will schedule a date for the trial on March 10th.
Paul Wanco's next move remains to be seen.
NOTE: A newly enacted law in New Jersey has instituted a program in Municipal Courts that is similar to the Pre-Trial Intervention Program, which is only available at the Superior Court level. The new program is called the Conditional Dismissal Program and defendants who are facing charges for less serious offenses, known as disorderly persons or petty disorderly persons offenses, may be eligible for participation. For more information, see my Municipal Court Conditional Dismissal Program page.
For additional details regarding this case, access the following article: Judge refuses to dismiss elderly abuse charges against Lodi fire marshal