Sex Trafficking, Forced Prostitution Bust Before NJ Super Bowl
By Travis Tormey posted in Sex Crimes on Tuesday, February 4, 2014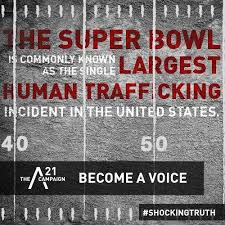 Law enforcement officials recently announced the successful execution of a large-scale operation targeting sex trafficking throughout the tri-state area in the weeks prior to Super Bowl 2014.
Over 50 law enforcement agencies participated in the operation, which occurred over the two-week period leading up to the Super Bowl, hosted in New Jersey at East Rutherford's MetLife Stadium on February 2nd.
Authorities have identified the Super Bowl as a major event for sex trafficking. As such, New Jersey law enforcement officials were primed and ready when it came time for this year's game. Among the preparations, a Super Bowl sex trafficking task force was established by the New Jersey Attorney General's office.
According to reports from the Federal Bureau of Investigation, 16 juveniles and over 50 women were liberated from forced prostitution during the bust and more than 45 pimps were arrested. The minors, a number of whom were documented as missing persons, were discovered in various locations in New York, New Jersey, Connecticut, and Pennsylvania and were between the ages of 13 and 17.
Although prostitution and sex trafficking crimes are related, typical prostitution offenses do not require the use of force necessary for a crime to be considered sex trafficking. Prostitution offenses in New Jersey are governed under N.J.S.A. 2C:34-1, and can be considered crimes of the second or third degree, as well as disorderly persons offenses.
Those charged with prostitution offenses are generally charged with disorderly persons offenses, which are punishable by a maximum term of 6 months to be served in the county jail, fines of up to a $1,000.00, and permanent criminal record charges. However, in specific cases, such as those involving the promotion of prostitution, these offenses are classified as third degree crimes, subjecting those convicted to penalties including 3 to 5 years in New Jersey State Prison.
Prostitution cases that include a minor are considered even more egregious and are classified as second degree offenses, which are punishable by 5 to 10 years of imprisonment. It is important to note that in these types of cases, an individual can still be convicted even if they were not aware of the fact that the person who engaged in the commercial sex was a juvenile at the time
For more information pertaining to this investigation, access the following article: FBI: Kids Forced Into Prostitution for Super Bowl